Whitney And Jason Johns Achieve Ambassador Black Diamond Rank At PURE
March 26, 2019
By Team Business For Home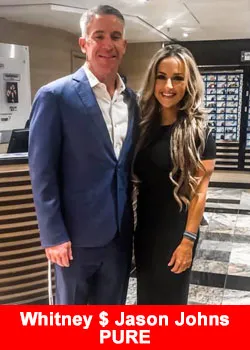 The most important things in life according to Whitney and Jason Johns, PURE Independent Business Owners (IBOs), are relationships.
This should come as no surprise as the connections they have made have catapulted their PURE business to heights some only dream about.
The Johns were recently recognized as one of the top earners at PURE, having achieved the prestigious rank of Ambassador Black Diamond. Dedicated parents with two young children, Whitney and Jason have built sizeable teams and have personally mentored hundreds. They have a passion for empowering others while always honoring, respecting and learning from them.
"Other than one's faith, the most important thing in life are relationships. Two factors that impact the quality of our relationships are our health and financial peace of mind,"
said Whitney and Jason.
"Because of the quality of the PURE product line and business model, we have an opportunity to impact men, women and families in an area of our lives that mean the most to us."
"The Johns' business has flourished because of their natural ability to connect with customers," said Daren Hogge, PURE CEO.
"Whitney and Jason are building teams and leading the way and we are extremely proud of their success and look forward to what they will do next."
Whitney and Jason Johnslive in Celina, Texas with their two children and Whitney owns a small boutique. They started their PURE business in June 2017 and have exceeded their expectations.
About PURE
PURE: People United Reaching Everyone is a leading innovator in health and wellness products. PURE is dedicated to delivering Whole Healthwith high-quality products for physical health, opportunity for financial health, relationships for personal health and social impact for philanthropic health.
PURE is a global company with offices in the U.S., Taiwan, Thailand and Korea, with headquarters in Frisco, Texas. For more information on the products or business opportunity, visit https://livepure.com/.