Laura Murphy And Michael & Tami Renz Achieve Diamond Rank At Valentus
April 6, 2019
By Team Business For Home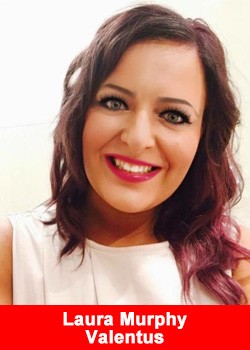 Laura Murphy is the first UK Diamond in 2019. She stated upon her achievement:
I am just a normal girl who left school and got into the beauty industry. I started my own beauty business at the young age of 21 because I always had that entrepreneurial mindset.
I always knew there was something better than working for someone else and not being paid what you're worth! I knew there was more to life. I had my little girl and I wanted to be at home with her and watch her grow. She was just so tiny at 6 months old.  How could I leave her?
My first networking experience didn't work out, but I didn't quit. I got offered something else and two and half years later I am still here and just hit a massive promotion – Diamond rank. I will be forever grateful and thankful that I took a chance!
It's been far from easy.
It's been a rollercoaster ride, but it's definitely worth it.  It doesn't even feel like work.
I have now found something that is going to give me time freedom to follow my dreams.  I do this full time.
I can work my business from anywhere and I am earning more than a full-time weekly job and it's residual.
I still can't believe this is my life, all because I took a chance, this industry isn't perfect, but it's the better way!
Michael and Tami Renz from the USA had just purchased a new home when Michael unexpectedly lost his longtime job at Coca-Cola.
That's when they were contacted by long-time friends Double Diamond Executives Andrew & Nancy Burling, who introduced them to Valentus in August 2018. He opened their eyes to running a truly successful global network marketing business.
Michael and Tami immediately jumped head first into their business, sharing Valentus products, the Business Opportunity and the amazing Compensation Plan. In a matter of months, they had built and mentored a massive team unified by the same goal of financial freedom.
"We spent hours in our office, calling people we knew whose lives could change with such an incredible opportunity, and quickly we had a solid team formed."
says Michael. In late February 2019, they achieved the distinguished rank of Diamond; The uncertain future they had once faced is now more stable than ever before.
About Valentus
In Latin, the word "Valentus" means "prevail," defined as proving to be superior in strength, power, and influence. Recognizing that, we couldn?t have picked a more fitting name for a company that strives to be the example in an industry that deserves a leader to follow.
Since day one, our focus, our passion, and our commitment have been to create a company, a product line, and an opportunity built on a foundation of integrity.
From creating significant levels of income, to building strong networks, healthy long-lasting relationships, making new friends, participating in activities you never even knew existed, having the time to do the things you love with the people you love to be with, VALENTUS can help you PREVAIL in ALL of your goals!
For more information please visit www.valentus.com