OMNIA Unveils At Home Cryptocurency And Arbitrage Trading Software
April 4, 2019
By Team Business For Home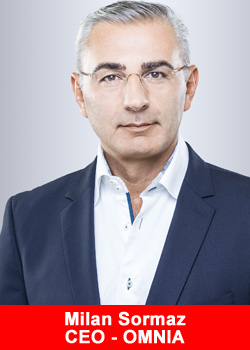 OMNIA Brings new technology to the cryptocurrency and blockchain space by expanding their lineup of products and services to include a personal cryptocurrency & arbitrage trading software. This software is available worldwide now and aims to bring cryptocurrency trading to the masses.
OMNIA CEO Milan Sormaz joins BFH for an exclusive inside look at this fascinating software.
"The Cryptocurrency trading market is booming, yet it's comprised mostly of large firms or those individuals highly experienced in the field.

A large number of crypto holders are extremely protective of their assets and won't risk trading no matter what. Our software is a solution for those individuals, absolute experts, and everyone in between."
As someone who isn't an expert in the cryptocurrency industry, I asked Milan to sell me on it in as few words as possible.
"On one screen, our software connects you to nearly every major cryptocurrency exchange where you'll see live pricing and be able to, with the push of a button, exchange between over 100 cryptocurrencies and 4 fiat currencies.
You can set the system to automatically make arbitrage trades, taking advantage of price variations among the markets. You're in control of your funds and you aren't susceptible to large scale hacking since you use your own wallet. You can set up and begin profiting from arbitrage trading on the first day.
And my favorite part, is that  our IBO's have a new and unique product to market that most crypto users in the world would like to know about."
OMNIA stays true to their founding principles while broadening their focus in order to grow with the industry.
"We started with mining and were one of the last major companies disbursing mining results. Where our IBOs and miners win, is the fact they have lifeterm mining contracts with us.
Unlike every other mining service, we will resume payouts as it becomes profitable again. In the meantime we have strategically added alternative products and services to keep us busy. All great companies have to deal with the times. OMNIA has handled it well and has truly evolved and I'm proud of the what we've become."
About OMNIA
Headquartered in Cyprus, OMNIA is a leader in the blockchain industry and offers a unique strategy for anyone to effortlessly participate. Our products and services are strategically sound enough to attract those that are blockchain savvy already and simple enough for those who are new to the world of cryptocurrency to begin their journey.  
Where allowed, OMNIA offers a variety cryptocurrency and other blockchain-related products and services. OMNIA is comprised of professionals who possess years of experience in this space since the inception of Bitcoin.
We have a scalable infrastructure that is secure and fully optimizable, capable of being a major part of the future of blockchain. For more information visit www.omniatek.com