Zija International Expands Industry Leading Plant Based Solutions
April 5, 2019
By Team Business For Home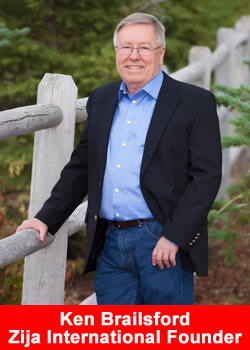 In a world that is becoming more and more aware of the importance of sustainable practices, natural products, and plant-based diets, many network marketing companies are starting to offer wider ranges of products and systems to fit the new generation.
Since its founding day, Zija International has been a strong representative for these movements, offering options and opportunities featuring nature's best botanicals and innovative delivery systems for the nutrients contained in them.
Zija International starts from Ken Brailsford, its founder and the "father" of herbal incapsulation. His experience and passion throughout his decades in the direct selling industry for natural health and wellness was instrumental in the foundation of Zija International and the values it stands for.
Started as the Moringa company, featuring one Moringa oleifera-enhanced drink mix, Zija quickly expanded its reach by providing different natural products containing the "miracle tree" superfood, from energy drinks (containing natural caffeine and beneficial extracts), to plant protein shakes, to herbal capsules and such: the Core Moringa line was established, with a full range of nutritional options for everyday consumers.
Most recently, Zija Europe expanded on this line by releasing the Plant Pro Bars (vegan, gluten-free, plant-based protein bars featuring the Moringa Leaf protein and nutrition) and the Triotic, a probiotic gastrointestinal support with 3 strains of probiotic backed by hundreds of scientific papers.
Zija International also offers more options for the fitness enthusiasts, or those who are simply looking to create a healthier home environment or natural skin care regimen. Through its Améo Essential Oils, GenM Skin & Personal Care, and Ripstix Fitness Supplements, the company presents itself as a one-stop shop for plant-based, no-nonsense, science-backed products that can enhance one's life from the inside out.
Zija's Améo Essential Oils, which follow a strict certification process called CERTI-5, contain the richest extracts from botanicals across the world: they are carefully selected, validated and tested to ensure that only the best of the best is received by customers.
The essential oil industry has seen huge success in the past years, and the Améo line presents itself as a competitive option thanks to the sound science behind the process of extraction, manufacturing, and delivery of each bottle of Améo Essential Oils.
The GenM Skin & Personal Care line features a growing array of products for skin, personal, and hair care. All infused and enhanced with plant-based extracts and free from harsh chemicals, they represent Zija's latest step into the market of natural, plant-based, environmentally conscious products – just one example is the GenM Personal Care, featuring aluminum-free deodorant, fluoride-free toothpaste, and soap bars that are Rainforest Alliance Certified.
The skin care range is enriched with extracts from Moringa oleifera but also mangosteen pericarp oil, argan oil, and essential oils from the Améo line for added benefits.
Lastly, the Ripstix Fitness Supplements line is where workout lovers, athletes, fitness enthusiasts and just about everyone wishing for a more active lifestyle can find options to fuel their day. Through the natural ingredients found in products such as the Ripstix Limitless (D-ribose, GABA, natural caffeine, and Moringa Oleifera plus mangosteen extracts), higher mental clarity and energy are within easy reach – making it a great option for physical activity, as well as mental exertion for college students.
About Zija International
Zija International, a privately held and privately-funded business founded by Kenneth E. Brailsford and led by President and CEO, Ryan Palmer, develops natural health, wellness, and beauty products. The company operates in more than 50 countries worldwide, pioneering the #NaturalHealthRevolution to help individuals achieve Life Unlimited.
Zija has seen consistent growth every year since it was founded over a decade and has received several awards, including and being named the Fastest-Growing Company in Utah' by Utah Business Magazine.
It has also been recognized on fastest-growing and top-revenue lists by Inc. Magazine, Direct Selling News and Utah Valley Magazine, and has received industry-specific MarComm, American Business (Stevies), and Davey Awards.