Isagenix Appoints Joshua Plant As Chief Science Officer
May 9, 2019
By Team Business For Home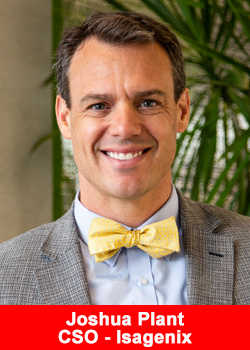 Isagenix International, a global health and wellness company providing nutrition and lifestyle solutions, has added Joshua Plant, Ph.D., to its executive leadership team, positioning the business for continued product excellence and innovation.
Plant joins the company as its chief science officer. In his new role, he oversees the research and development, product design and development, product commercialization, and quality assurance of all Isagenix products.
Plant has also been named chairman of the Isagenix Scientific Advisory Board, a group of top medical and health professionals who lend their experience and expertise to ensure the integrity and effectiveness of Isagenix products. Board members include Isagenix Founder John W. Anderson.
With senior leadership experience in the nutritional supplement and direct selling industries, Plant's previous positions include serving as vice president of research and development and then chief operating officer of a health and wellness direct selling business and chief science officer of a supplement manufacturer.
Isagenix Chief Executive Officer Travis Ogden said Plant is a tremendous asset to the company.
"Joshua is incredibly bright and has great expertise in preventative health and nutritional sciences, which has earned him respect in both the health and wellness and direct selling industries,"
Ogden said.
"His experience will be instrumental in creating exceptional, innovative products that resonate with customers and help Isagenix transform lives around the world."
Plant said he is honored to join the company and excited to help take it to the next level.
"Isagenix has a terrific reputation and has done stellar work in the health and wellness space," he said.

"I'm thrilled to be part of a company that has made it possible for hundreds of thousands of people to embrace and enjoy a healthy lifestyle, and I look forward to playing a part in its continued success and growth."
Plant's experience prior to joining Isagenix includes a position as a research fellow at the University of Utah, where he earned a Bachelor of Science in biology, making him a first-generation college student. In addition, he received the prestigious National Institutes of Health International Research Fellowship, given to only 10 students each year.
Plant also has a doctorate in biomedical sciences from Harvard University, where he graduated first in his class and completed a seven-year program in 3 1/2 years.
About Isagenix International
Established in 2002, Isagenix provides systems for weight loss, performance, vitality and well-being, personal care and beauty, and financial wellness​. With nearly 600,000 customers worldwide and more than 100 life-changing products, packs, and systems globally, the company is committed to producing Solutions to Transform Lives™. Isagenix shares its products and solutions through a network of independent distributors in 18 markets: the United States, Canada, Puerto Rico, Hong Kong, Australia, New Zealand, Taiwan, Mexico, Singapore, Malaysia, Colombia, Indonesia, the United Kingdom, Ireland, the Netherlands, Belgium, Spain, and South Korea.
Isagenix is a privately owned company with headquarters in Gilbert, Arizona. For more information, visit Isagenix.com​.