Nu Skin Q1 Sales Up 1% To $624 Million
May 1, 2019
By Team Business For Home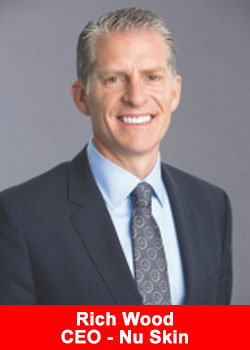 Nu Skin Enterprises, Inc. (NYSE: NUS) today announced first-quarter 2019 results.
Q1 2019 vs. Prior-Year Quarter
Revenue:
$623.6 million, +1%
7% constant currency growth
(6%) fx impact or ($33.3 M)
Earnings Per Share (EPS):
$0.77 compared to $0.64, + 20%
Sales Leaders:
63,248; consistent with the prior year
Customers:
1,193,206; +10%
"We are encouraged by the positive start to the year, which began with a strong first quarter highlighted by 7 percent local-currency growth," said Ritch Wood, chief executive officer.
"We were particularly pleased with local-currency revenue growth in nearly all our reporting segments, highlighted by 12 percent growth in Mainland China and 5 percent growth in Southeast Asia, or 6 percent and 2 percent on a reported basis, respectively. We continue to focus our global efforts on expanding our customer base through our Nu Skin growth strategy, which helped to drive a 10 percent increase in customers during the quarter."
Q1 2019 Year-Over-Year Operating Results
Revenue:
$623.6 million compared to $616.2 million
7% constant currency growth
(6%) fx impact or ($33.3 M)
Gross Margin:
76.5% compared to 76.3%
Nu Skin business was 78.7%, compared to 77.9%
Selling Expenses:
40.0% of revenue compared to 41.8%
Nu Skin business was 42.0%, compared to 42.9%
G&A Expenses:
25.4% of revenue compared to 24.9%
Operating Margin:
11.0% compared to 9.6%
Other Income / (Expense):
($2.8) million expense compared to $1.2 million income
Income Tax Rate:
34.7% compared to 41.0%
EPS:
$0.77 compared to $0.64, +20%
Stockholder Value
| | |
| --- | --- |
| Dividend Payments: | $20.5 million |
| Stock Repurchases: | $0.8 million; $470.2 million remaining in authorization |
Q2 and Full-Year 2019 Outlook
Q2 2019 Revenue:
$660 to $680 million, 3% to 6% decline
• Approximately (4%) to (5%) fx impact
• Prior year included approximately $95 million of LumiSpa sales, driven by Mainland China introduction
Q2 2019 EPS:
$0.91 to $0.98
2019 Revenue:
$2.76 to $2.81 billion, 3% to 5% growth
• Approximately (2%) to (3%) fx impact
2019 EPS
$3.80 to $4.05
"We remain confident in our growth prospects in 2019 as we focus on the continued execution of our growth strategy," said Wood. "We will drive increased productivity by investing in technologies to better support our sales leaders, expanding our global beauty device systems with product introductions and line extensions, and optimizing our Velocity sales compensation program."
"Our solid first quarter results keep us on track to achieve a strong year," said Mark Lawrence, chief financial officer. "Our 2019 annual revenue guidance is $2.76 to $2.81 billion with an approximate 2 to 3 percent unfavorable foreign currency impact, and earnings per share of $3.80 to $4.05. For the second quarter, we project revenue of $660 to $680 million with an approximate 4 to 5 percent negative foreign currency impact. The prior-year period included a strong LumiSpa introduction in Mainland China while current year product launches are slated for the back half of the year. We project earnings per share of $0.91 to $0.98."
About Nu Skin Enterprises, Inc.
Founded 35 years ago, Nu Skin Enterprises, Inc. (NSE) empowers innovative companies to change the world with sustainable solutions, opportunities, technologies, and life-improving values. The company currently focuses its efforts around innovative consumer products, product manufacturing and automated controlled environment agriculture technology.
The NSE family of companies includes Nu Skin, which develops and distributes a comprehensive line of premium-quality beauty and wellness solutions through a global network of sales leaders in Asia, the Americas, Europe, Africa and the Pacific; and a collection of manufacturing and technology innovation companies. Nu Skin Enterprises is traded on the New York Stock Exchange under the symbol "NUS." More information is available at nuskinenterprises.com.