Proven Industry Leader Kyle Helm Joins Jeunesse
May 15, 2019
By Team Business For Home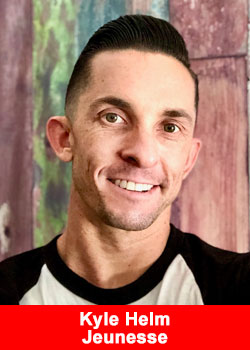 Global youth enhancement company Jeunesse is pleased to announce top industry leader Kyle Helm has joined the organization.
"Kyle is a talented leader with an amazing ability to relate to others and make this business understandable to just about anyone.

His strong work ethic and dedication to serving others has allowed him to reach great heights in the industry.

We are pleased Kyle has chosen to join the Jeunesse Family and look forward to supporting his continued success,"
said Jeunesse Chief Visionary Officer Scott Lewis.
As a musician, Kyle spent a lot of time on the road living the dream as a professional drummer. The problem was, the dream he coveted most was to be at home with his wife and four daughters while still making a viable living.
Although he didn't know anything about direct selling when his dad introduced him to the business in 2010, Kyle rapidly discovered that the industry offered a level playing field and a path to success — no prerequisites or long days on the road required.
A quick study, Kyle soaked up all the education he could and soon became a top leader, building a team of more than 30,000 people within his first two years. He went on to reach the highest echelon of leadership positions, collecting top awards and recognition along the way. More significantly, Kyle was able to build the life he dreamed of without missing precious moments with his family.
Kyle attributes his success to two things: Simplification and hard work. His strength as a leader is his ability to simplify things to a level that makes it easy for the average person to see how they can achieve their goals. Kyle's objectives are to teach others to be successful through the consistent execution of straightforward strategies and to model the work ethic he knows leads to success.
"I know without a shadow of a doubt that if I help everyone on my team achieve what it is they want, I'll be just fine,"
he says.
Kyle immediately knew Jeunesse was a perfect fit.
"From the products, marketing support, leadership, compensation and ownership, there is not another company in the industry that has the foundation Jeunesse provides.

My journey is just beginning here, and I cannot wait to help build the next generation of leaders with Jeunesse."
 About Jeunesse
Jeunesse is a global direct selling company with a mission to positively impact the world by helping people look and feel young while empowering them to unleash their potential. The company's exclusive skin care and nutritional products form a comprehensive Youth Enhancement System.
With multilingual customer service, back office support and a global enrollment system, Jeunesse utilizes a cutting-edge platform to share innovative products, training and support through 34 fully operational offices to markets in over 145 countries. Learn more at jeunesseglobal.com.