Top Leader 22-Year-Old Gavin Teague Reaches Ambassador at Elepreneurs
May 20, 2019
By Team Business For Home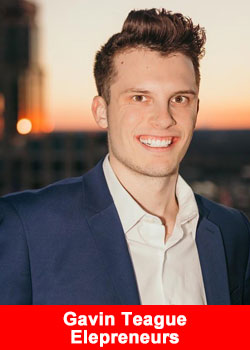 For Gavin Teague, of North Carolina, USA, the decision to become an Elepreneur was based in part on the culture.
"I loved the idea that anyone can succeed here no matter where in life they came from,"
says the 22-year-old.
That's also a factor in Gavin's own success with Elepreneurs. Though he's young, as someone who's been in the industry for the past three years he believes in the power of validating and supporting others while making sure they know that their dreams matter, too.
In his business, Gavin shares the incredible vision of the Elepreneurs company … and then works with clients and prospective customers to help them define their own "why" and achieve their dreams. In turn, he says,
"those customers share the products and the vision with others, and this creates an incredible win for everyone."
Part of that win, Gavin believes, comes from CEO and Founder Robert Oblon's vision for the company. Elepreneurs is an opportunity based on products and recognition, along with a unique rewards program that gives everyone the opportunity to win.
"In the Elepreneurs community, we are all one team with one vision,"
says Gavin.
"There are no egos, and truly everyone is working together with the same goal in mind: to elevate others' health, wealth, and happiness."
Part of achieving those dreams is to really hone in on your goals, he adds.
"What's your plan? Why are you doing it? Where do you want to be years from now? Then, find out what others want and focus on theirdreams and goals.
Help them to get what they want, and money will become a byproduct of your ability to shift other people's lives."
About Elepreneurs
Elepreneurs is on a mission to elevate your health, wealth, and happiness. We help you elevate your life through patented nutritional products, life-changing virtual success training, and a unique rewards program.
Elepreneurs actually builds happiness right into our powerful nutritional products. The superior, scientifically backed ingredients stimulate the happiness hormones — dopamine, oxytocin, serotonin, and endorphins — which we refer to as D.O.S.E. For more information, visitwww.elepreneur.com.