Vanessa Wieczorkowski And Alexandre Blando From France Are ARIIX's Nr. 1 In Europe
May 23, 2019
By Team Business For Home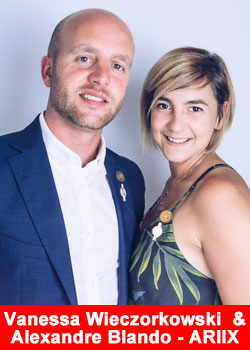 Vanessa Wieczorkowski and Alexandre Blando are a network marketing powerhouse couple, taking the No. 1 spot among the 2018 ARIIX Europe Power Rankers, and bringing two of their team members into the top 10 with them.
The industry-first ARIIX Power Ranking system was created to recognize top performers for their growth, leadership, achievements and business behaviors.
Both from northern France, the couple met 13 years ago and spent the first years of their life together struggling to find work, following a series of seasonal jobs, moving from place to place, and even going without food at month's end.
When Vanessa was introduced to network marketing as a means to make ends meet, Alex was skeptical. But as more and more generous checks arrived in her name, his opinion changed. Eventually, they were faced with a decision: continue direct selling part time or take the leap to focus their efforts full time. The decision was clear.
In spite of their growing success, their new life was not all smooth sailing. The company's sales policy changed so that distributors could no longer earn as much, and Vanessa started to explore other options. She knew it would be difficult starting over with a new company, but she believed they had to make the move for their team, to put them first and give them a better chance for success.
"It's the success of your team that makes you successful,"
Vanessa asserts.
ARIIX — a unique and disruptive international opportunity company — officially opened for business in France in early 2018, but Europe was already among the top three fastest-growing markets well before then. Five of the top twenty-five 2017 worldwide Power Rankers were from Europe. In 2017, year-end sales for France reached $2.95 million USD and for the first half of Q1, 2018 sales had already reached $910,000 USD. France was the 17thofficial market for ARIIX, on a steady trajectory of global expansion.
ARIIX caught the couple's eye with its wide variety of products, the synergy among brands, and the continuity in combining products for overall well-being.
In a matter of months, they had regained and then surpassed their former income. They are a testament to the idea that building your own business is difficult, but not impossible. Vanessa and Alex assert that it is a question of will, and when they share the opportunity, they try to convey the idea that "work pays."
They confess,
"Our leaders know our story and know that physical and economic investment has paid off for us."
On the other hand, motivation comes also with recognition and congratulations. These elements inspire and encourage representatives to continue. For the young couple, the best way to motivate their team is with real facts. They share stories of success, accomplishments and anecdotes of how the opportunity has changed those they know. The key to success for Vanessa is sharing.
They also remind their prospects and teammates that success does not come without sacrifice. The decision to leave their traditional jobs was not trivial and above all, it took a lot of effort.
"If we have succeeded, anyone can do it,"
encourages Alex.
"Vanessa and Alex exemplify the leadership and commitment it takes to achieve success. They are hard-working and dedicated, because they know that it is consistency and action that produce results. We are very proud of how far they've come!"
says ARIIX President and Founder Mark Wilson.
  About ARIIX
ARIIX is an international opportunity company that creates efficacious, toxin-free products developed through collaboration with world-renowned experts and marketed through independent representatives.
The ARIIX opportunity and brands are available in Australia, Canada, Greater China including Hong Kong SAR and Taiwan, Japan, Kazakhstan, Mexico, the Netherlands, UK, France, Belgium, Ireland, Israel, Russia, South Korea and the United States. For more information, please visit ariix.com or call 1-855-GO-ARIIX
ARIIX does not guarantee any level of income or success to any Representative. Earnings from the ARIIX ACTIV8™ Compensation Plan depend on each Representative's sales, business skills, ability and personal application. Please see the ARIIX Income Disclosure Statement for complete information regarding the earnings of ARIIX Representatives.