Debbie And Ken Schneider Win The ARIIX 2018 Vision Award Winner
June 1, 2019
By Team Business For Home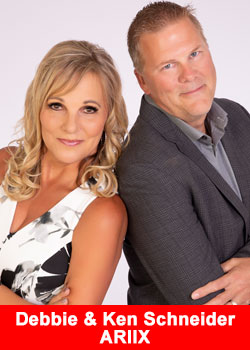 ARIIX, a unique and disruptive international opportunity company that promotes healthy, toxin-free living, is proud to name Julie Debbie and Ken Schneider as the winner of the ARIIX 2018 North America Vision Award.
When Debbie and Ken learned that the company they had built a strong network marketing business with — NuCerity® — was partnering with ARIIX, they were surprised and a little worried. But the leaders of both ARIIX and NuCerity were upbeat, reassuring and excited.
Debbie and Ken realized this was an opportunity, and they needed to face it with a positive outlook in order to encourage their team and set the example. They chose to welcome the change and looked forward to trying something new.
If Debbie and Ken have learned anything as leaders and mentors, it is to ask for help and be open to new ideas and feedback. They may fall down, but they always get back up. They believe that how you deal with adversity defines your success.
With their mindset firmly in place, the Schneiders knew it would not be easy, but it would be worth it. They had not experienced success in the past by complaining or fearing the unknown. Just the opposite. They recognized that they had to react the right way for themselves and stay positive. That's how they grew their business — with eyes only for the positive, not the negative.
"What does complaining do?" says Debbie. Complaining isn't good for anyone and especially Ken and me. We knew that we had to react the right way for ourselves and be positive.

That's how we grew our business. We only looked at the positive and didn't look at the negative."
As they embraced the ARIIX mission and vision, Debbie and Ken's business only grew stronger. They worked hard to be a positive influence on those around them while sharing about the industry-disrupting opportunity that had come their way.
"It's leading from the front even if you are in fear. When there are negatives, you don't show them to the team. You find the positives"
The couple is now living the life of their dreams, and they give the credit to ARIIX, a company that empowers them to transform their lives in every imaginable way. ARIIX has enabled them to leave their corporate jobs, make more income in a month than they used to make in a year, and have the freedom to do what they want when they want, where they want and with who they want. And they have never been happier!
"We are here because we belong to a company that allows us to transform our lives in every possible way you can imagine."
About ARIIX
ARIIX is a unique and disruptive international opportunity company that creates efficacious, toxin-free products developed through collaboration with world-renowned experts and marketed through independent representatives.
The ARIIX opportunity and brands are available in Australia, Canada, Greater China including Hong Kong SAR and Taiwan, Japan, Kazakhstan, Mexico, the Netherlands, UK, France, Belgium, Ireland, Israel, Russia, Singapore, South Korea and the United States. For more information, please visit ariix.com or call 1-855-GO-ARIIX.
ARIIX does not guarantee any level of income or success to any Representative. Earnings from the ARIIX ACTIV8™ Compensation Plan depend on each Representative's sales, business skills, ability, and personal application. Please see the ARIIX Income Disclosure Statement for complete information regarding the earnings of ARIIX Representatives.