Dr. Chi Nguyen Achieves Blue Diamond Rank With Valentus
June 3, 2019
By Team Business For Home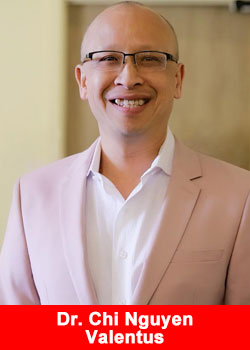 Upon his achievement Dr. Chi Nguyen stated:
As inspired as I was to have a career in medicine, it has been a dream come true to be able to impact so many lives as a result of what Valentus has given us. Valentus is a gift shared to me by my friend, Crown Diamond John Haremza.  I know that we can turn this journey into an unforgettable one by continuing to do what we love-Change Lives!!!!
I was told once by someone, "You speak to our hearts, our situations and it comes out more sincere and honest."
When you have the ability to positively change one's life every second, it changes your perspective in life. I'm truly blessed, grateful and honored to have this opportunity to help others. 
I owe the success to my super incredible "Ignite With Valentus" team. Without the combined efforts of everyone, this would not have been possible. It took lots of work, commitment, sacrifice, and team effort to make everything flow as smooth as it has. As such, I dedicate this blue diamond organizational rank advancement to each and every member of my team. Each of you truly matter!!! Thank you for your trust, your belief and your commitment to our mission.
We are all influencers and ambassadors of health and wellness and by doing so, we are given the unique opportunity to change our lives in so many special ways. We are much healthier which is priceless.  Financially, it's out of this world. Still can't mentally grasp the tremendous financial growth of our bank account and those of our team.  More than I have ever seen in my lifetime and more than I have ever seen in my 17 years being a part of this industry.
Why are we having great success one may ask? With a very well-balanced, equal and lucrative Valentus compensation plan along with a truly replicable system, we are able to learn it, teach it and have everyone continue to share its simplicity. Success is inevitable with consistent work-ethic, commitment, sacrifice and long-term vision as evident below:
In 11 months, our global organization was able to promote 3 blue diamonds, 3 triple diamonds, 11 Double Diamonds and 35 diamonds along with many emerald leaders and team and the best part is 98% of the organization are first timers in the industry.
I have never experienced such incredible momentum in my 17 years of direct sales until now with Valentus.
I know that Valentus was placed into the path of my life for a purpose greater than that of my own. A purpose of giving people hope of a better tomorrow, a purpose of sharing the priceless gifts of freedom, of choice, and of Independence. After all, we deserve such freedom, choice, and independence from the corporate world.
I would like to thank our passionate, loving CEOs, David and Joyce Jordan for your commitment to us.  I would like to thank Crown Diamond John Haremza and Blue Diamond Karen Ford for always being true to our team. I would like to thank all of the Valentus Diamond Leadership Team for your genuine support and love. Last but not least, Thank You Chris Hupke, Director of Operations for always giving us your 24/7 undying support.
About Valentus
In Latin, the word "Valentus" means "prevail," defined as proving to be superior in strength, power, and influence. Recognizing that, we couldn?t have picked a more fitting name for a company that strives to be the example in an industry that deserves a leader to follow.
Since day one, our focus, our passion, and our commitment have been to create a company, a product line, and an opportunity built on a foundation of integrity.
From creating significant levels of income, to building strong networks, healthy long-lasting relationships, making new friends, participating in activities you never even knew existed, having the time to do the things you love with the people you love to be with, VALENTUS can help you PREVAIL in ALL of your goals! For more information please visit www.valentus.com