Amanda Hansen Achieves Crown Ambassador Rank At Elepreneurs
July 22, 2019
By Team Business For Home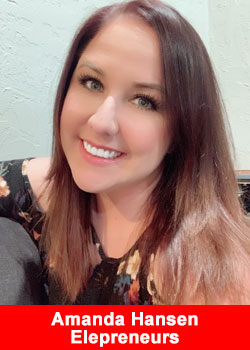 Amanda Hansen says the worst day of her life was when she got laid off from her corporate sales executive job. "When the company decided they no longer needed my position, I was driven home by my sales manager that same day because I came to work in a company car," she says.
"I had no warning and no backup plan."
That's when Amanda knew she had to take charge of her own future. The 31-year-old Appleton, Wis., resident then started her own business that ultimately failed, but it put her on the path to network marketing. She'd had some prior successes in the industry, but "I promised my husband this time was going to be different, and I was going to make sure we would never have to worry about money ever again," she says.
Amanda says the product is what attracted her to Elepreneurs.
"Never have I seen a product work so quickly in my lifetime,"
she explains.
"I struggled with many areas when it came to my mental health and was an absolute zombie because of the medications I had to take daily. I knew that if it could help me this quickly, it would help many others as well, and I ran with it."
Since she's joined the company full time, Amanda says she appreciates the team culture, product affordability, and the uniqueness and impact of the products she markets. "We have customers who want to order every 30 days and a 9-1 customer to rep ratio!" she marvels. "That's insane!"
That "worst day of her life" was the impetus Amanda needed to take charge of her own future. And she hasn't looked back yet.
"Because of Elepreneurs, my husband and I finally got to go on the honeymoon we never had, purchased our dream car, paid off all of our credit card debt and will never have to live paycheck to paycheck again,"
she says.
"We are currently in the process of preparing to purchase our dream home in the next year. We just got back from Jamaica and are planning our next trip to Thailand and many other destinations around the world."
About Elepreneurs
Elepreneurs is on a mission to elevate your health, wealth, and happiness. We help you elevate your life through patented nutritional products, life-changing virtual success training, and a unique rewards program.
Elepreneurs actually builds happiness right into our powerful nutritional products. The superior, scientifically backed ingredients stimulate the happiness hormones — dopamine, oxytocin, serotonin, and endorphins — which we refer to as D.O.S.E. For more information, visit www.elepreneur.com.