Elepreneurs Experiences Meteoric Rise
July 15, 2019
By Team Business For Home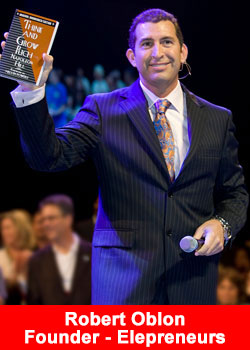 In December 2017, direct-sales pioneer Robert Oblon unveiled his new, groundbreaking company: Elepreneurs.
Elepreneurs doesn't just sell products. It's a purpose-driven business for the network marketing profession. With his long history in the industry, Oblon well understood the empowerment people experience from taking the reins on their futures.
More importantly, he believed there had to be some critical changes within the space—namely, providing an environment where no favoritism was included during the enrollment process.
Oblon believes the sometimes "taboo" state of MLM could be reversed simply by building a company where true direct selling was employed and no "so-called" professionals were given an upper hand by owners who could personally benefit.
And Elepreneurs does just that: It gives home-based business owners in this profession an equal playing field where anyone can win and the tools needed to bring greater purpose into their lives and the lives of others by elevating health, wealth, and happiness.
Oblon's business model has led to unprecedented success and incredible sales growth in the short time the company has been around. June 2019 sales increased from May of this year, and sales continue to skyrocket month after month. In fact, Elepreneurs was named the No. 1 fastest-growing young company in 2018 by Social Selling News.
The concept of Elepreneurs is simple: A simple, inventive approach to sales and marketing combined with advanced, patented nutritional products, formulated for happiness. Each product contains scientifically backed ingredients that stimulate happiness hormones — dopamine, oxytocin, serotonin, and endorphins — which Elepreneurs refers to as D.O.S.E.
As one of the fastest growing direct-sales companies, Elepreneurs helps business owners and clients unlock their potential. Though only founded in late 2017, Elepreneurs has already proved an industry powerhouse. The company is truly one to watch over the next few years. Read more about Elepreneurs, or check out its portfolio of Elevacity products.
About Elepreneurs
Elepreneurs is on a mission to elevate your health, wealth, and happiness. We help you elevate your life through patented nutritional products, life-changing virtual success training, and a unique rewards program.
Elepreneurs actually builds happiness right into our powerful nutritional products. The superior, scientifically backed ingredients stimulate the happiness hormones — dopamine, oxytocin, serotonin, and endorphins — which we refer to as D.O.S.E. For more information, visit www.elepreneur.com.