Isagenix Chief Legal Officer Justin Powell Receives Prestigious First Chair Award
July 26, 2019
By Team Business For Home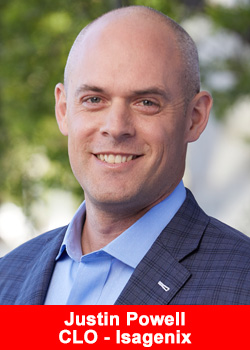 Isagenix International's top legal executive has received a First Chair Award, which honors in-house counsel who, through their hard work and dedication, have made significant contributions to the legal community.
Chief Legal Officer and General Counsel Justin Powell is being recognized in the Top General Counsel category alongside attorneys from several Fortune 500 companies, including Ford Motor Co., Bristol-Myers Squibb Co., Southwest Airlines Co., and Amazon.com Inc. Recipients will be honored at the First Chair Awards Conference & Gala on Aug. 28 in Chicago.
Powell, who was nominated by his peers, joined Isagenix in 2012 as associate general counsel and has served as the global health and wellness company's chief legal officer and general counsel since February 2016. In addition to managing the legal team, he's responsible for the global compliance, human resources, and government affairs departments. Powell also chairs the U.S. Direct Selling Association's General Counsel Committee.
"Justin is an excellent leader with a terrific legal mind who's set a great example at Isagenix and among his peers,"
said Isagenix Chief Executive Officer Travis Ogden.
"He's also made significant contributions to our company's success. I'm thrilled he's receiving a First Chair Award. He is well-deserving of this recognition."
Among Powell's contributions is helping Isagenix navigate several complex opportunities, including significant international expansion and transitioning to an employee-owned model through an employee stock ownership plan (ESOP).
His impressive skill set and previous experience in a sophisticated Wall Street practice were invaluable during these major company milestones. Powell also worked with his team to help launch the Isagenix Legacy Foundation, allowing the company to align its giving more closely with its mission of impacting world health and wellness.
"I'm honored to receive the First Chair Award, as I view it as a reflection on all my team has accomplished,"
Powell said.
"I'm privileged to lead such a strong and talented group of individuals. Together, we're ensuring Isagenix is in the best position possible to inspire healthy change and transform lives around the world."
In addition to receiving the First Chair Award, Powell has been named a 2019 Arizona Corporate Counsel Awards finalist by Az Business magazine and a 2018 C-Suite Awards General Counsel of the Year finalist by the Phoenix Business Journal. He also received the prestigious 2014 CEO's Award for Global Achievement and a 2013 Member Services Award from Isagenix.
About Isagenix International
Established in 2002, Isagenix provides systems for weight loss, performance, vitality and well-being, personal care and beauty, and financial wellness​. With half a million customers worldwide and more than 100 life-changing products, packs, and systems globally, the company is committed to producing Solutions to Transform Lives™.
Isagenix shares its products and solutions through a network of independent distributors in 18 markets: the United States, Canada, Puerto Rico, Hong Kong, Australia, New Zealand, Taiwan, Mexico, Singapore, Malaysia, Colombia, Indonesia, the United Kingdom, Ireland, the Netherlands, Belgium, Spain, and South Korea. Isagenix is a privately owned company with headquarters in Gilbert, Arizona. For more information, visit Isagenix.com​.