Lyconet Supports SME's Through Customer Loyalty Programs
July 22, 2019
By Team Business For Home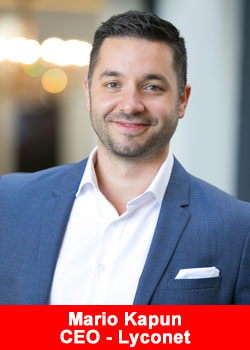 Network marketing specialist Lyconet offers independent entrepreneurs the opportunity to run their own customer loyalty program by enthusing customers all around the world with the benefits of the Cashback World Shopping Community.
But this is not all. The so-called Lyconet Marketers also support small and medium-sized enterprises (SMEs) in competing in an ever-growing market.
Attracting new and loyal customers is essential for any company's success. While the largeinternational businesses, who usually have a considerable marketing budget at their disposal, find this relatively easy, SMEs are often struggling when it comes to finding ways to increase their customer base and boost their sales. Surprisingly enough, the solution to this problem is brought to them by the network marketing sector, more specifically by the Lyconet Marketers.
"We are trying to offer our Marketers a variety of different options they can use to successfully establish their own business, rather than just giving them one single product",
explains Mario Kapun, CEO of Lyconet International AG.
"Therefore, we are pleased that the international Shopping Community Cashback World not only provides shoppers with benefits when they make their purchases at Loyalty Merchants, but has also created two customer loyalty programs tailor-made for the needs of SME's.

These programs give them the opportunity to reach out to and serve both existing and new customers efficiently."
Besides being able to build their own network of customers who make their purchases within the shopping community, Lyconet Marketers can also undergo a special training to become so-called Merchant Marketers.
This provides them with the necessary skills and expertise to promote CashbackWorld's customer loyalty programs among SME's and support them in making the most of the useful tools and features contained in these programs.
Among many other things, SME's will get listed as a Cashback World Loyalty Merchant, making it easier for customers to find the respective shop and discover its offers.
In addition, they can create special deals for shoppers to raise awareness and benefit from having access to modules for customer relationship management, turnover statistics, customer surveys as well as newsletter dispatch, if desired.
About Lyconet
The Lyconet brand offers those who are interested the opportunity to establish one's own shopping network as an independent entrepreneur, to enthuse consumers across the world with the benefits of the Cashback World Shopping Community and to sell customer loyalty programs to small and medium-sized enterprises.
As a network marketing specialist, Lyconet provides a wide range of professional training, services and tools, in order to offer its sales partners (Lyconet Marketers) the best possible support in their business activities.
Lyconet thereby ensures that the network is continuously expanded in terms of Members, Loyalty Merchants and Lyconet Marketers. For more information please visit www.lyconet.com