Maria Giambrone Achieves Ambassador Rank At Elepreneurs
July 1, 2019
By Team Business For Home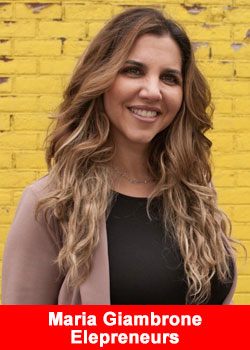 Maria Giambrone thought she had everything. The 46-year-old wife and mother of three lived in New York City and worked in a high-profile corporate career with part-time network marketing on the side.
"I was always searching for that one opportunity that would enable me to replace my corporate salary and be home with my children," she says.
Then her husband, Mark, was diagnosed with cancer. "It was a very stressful time, to say the least," Maria says. Around that same time, the Giambrones were introduced to Elepreneurs, and they tried some of the products.
"Almost immediately, both myself and Mark noticed a difference in the way we felt. We started giving it to others to try, and everyone had the same results," she adds.
"We knew we wanted to be part of the company."
But juggling cancer, kids, a full-time career, and all the extracurriculars in which she was involved left little time for anything extra. Still, Maria says, "Mark and I discussed how this business could possibly be the change we needed, and we decided to go all in! We didn't want to miss out on an opportunity that could change our lives—and the lives of others—and we are so glad that we went for it!"
As a result of "going for it" with Elepreneurs, Maria was able to replace her salary, quit her corporate job, and focus on her business full time. Her Elepreneurs success also has allowed her to pay off all the family's debt, and the Giambrones are now in the process of building their dream home.
"My 'why' has changed so much," Maria says.
"In the beginning, it was always to stay home with my kids. While everything I do is for my family, my why has changed in a big way. 
"Our products are able to help people with their health and happiness; our business is able to help change the finances of so many people," she adds. "And with the finances, for me, it allows me to be more philanthropic than ever before.
We are in the business of changing lives and providing others something they have only dreamed of. We are able to really make a difference in the world."
About Elepreneurs
Elepreneurs is on a mission to elevate your health, wealth, and happiness. We help you elevate your life through patented nutritional products, life-changing virtual success training, and a unique rewards program.
Elepreneurs actually builds happiness right into our powerful nutritional products. The superior, scientifically backed ingredients stimulate the happiness hormones — dopamine, oxytocin, serotonin, and endorphins — which we refer to as D.O.S.E. For more information, visitwww.elepreneur.com.