Onyx Lifestyle Launched It's Private Digital Members with A LUXURY Collective
July 2, 2019
By Team Business For Home
Onyx Lifestyle officially launched its private digital membership and introduced its Founding Members, who are icons industry and top over 4 billion dollars in sales collectively. The star power was incredible, it felt like a Hollywood premier with so many industry leaders from countries around the world for this launch event. 
The launch was held as a Collective which is their version of an incentive trip, that everyone in the company is invited too, and can also be earned. Check it out.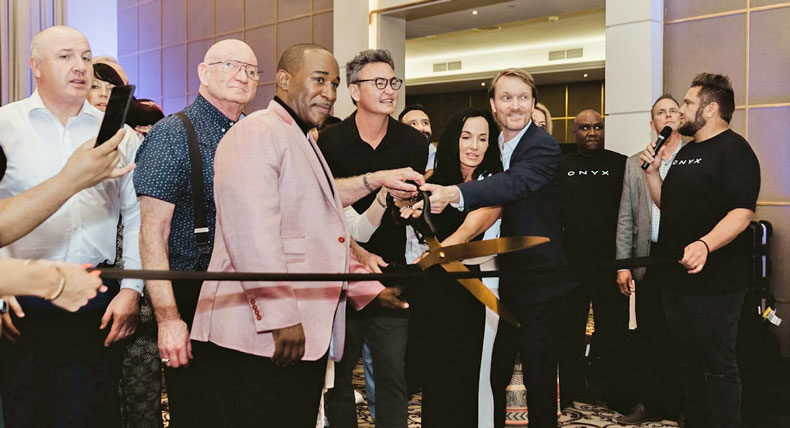 The Collective started with two full days of fun VIP excursions. First, we loaded up on to buses and stopped at the The Louvre Abu Dhabi for a photo-op, toured the breathtaking Qasr Al Watan Palace, where we were greeted with the traditional coffee and dates. We walked into one of the most impressive displays of architecture in the world.
The Qasr Al Watan is the President's Royal Palace and it is dripping with gold, white, and the most beautiful blue. The largest chandelier in the hall weighs a proud 6 tons and for the maintenance and care a small spiral staircase was built inside. Hundreds of pounds of gold were used throughout the building for decoration and only the finest marble and gems wherever you look.
Next stop: The Sheikh Zayed Grand Mosque, one of the largest mosques in the world. It is also home to the largest hand-knotted carpet in the world. It took about 8 months to finish the design, one year to knot it, and 2 months to bring it into one place to put it all together. From the decadent carpet, to the ornate giant 24k gold chandeliers, this mosque was remarkable to see in person! 
The second day started off on a high-note as 150 of us rode to the Burj Khalifa, the tallest building in the world! Did you know it's three times as tall as the Eiffel Tower and nearly twice as tall as the Empire State Building? Crazy! Onyx reserved the entire Atmosphere Lounge on the 122nd floor where we all gazed out among skyscrapers and had some appetizers and cocktails.
After the Burj Khalifa, we all explored the world's largest mall and enjoyed the fountain show.  The Dubai Mall has a Guinness world record aquarium, underwater zoo, and an Olympic sized indoor ice rink! This mall is 5 floors and has over 1200 shops inside. We could've spent days there, but instead we headed to our Desert Safari Tour!
Picture this – 25 land cruisers bashing the sand dunes in the Arabian Desert. WHAT! Yes, we were all for the thrills as we zoomed around the sand dunes for an hour. Our mascot, a T-rex named Rexy, made an appearance too. 
After the dunes, we went to our Arabian Dinner and Show. The ladies received traditional henna tattoos and everyone watched the belly dancers and fire dancers while enjoying some authentic cuisine. It was so fun being immersed in the middle eastern culture. 
After a fun-filled two days, everyone settled in to learn about exciting new announcements from Onyx and meet the Executive Team and Founding Members. We are so excited about the vision of Onyx and about everyone attending the launch event.
To end an unforgettable trip, we hosted the closing celebration party in the incredible Royal Suite of the Waldorf Astoria. This closing celebration was a special one. We celebrated the official ribbon cutting and launch of Onyx Lifestyle! Together as the first people attending an Onyx Collective, we launched a company and a culture. We cannot wait to hang out with everyone again at the upcoming Collective. 
"We want to thank everyone who joined us in Dubai for our first Collective. You are the Collective, the foundation of Onyx Lifestyle. Cass and I feel so blessed to see so many amazing people come from all over the world to be a part of Onyx.

So many amazing people that have joined together in a united vision and purpose. We will change people's lives, we have innovated the marketplace, and as a Collective, we will see the world and leave it better than we found it. Welcome to Onyx, be The Collective!"
stated Founder's Cassie & Travis Bott
This doesn't sound like a typical network marketing event! That's because it wasn't. All of our Collective's will be focused on have bucket list experiences, with luxury amenities and all our trainings and speeches will be released after the event by our keynote speakers so you can watch them on your own time and rewatch videos that you resonate with to get the most out of them. 
With Onyx's private digital membership our growth has already branched out to multiple countries including; China, South Korea, Japan, Taiwan, Singapore, Malaysia, Thailand, Vietnam, Canada, Australia, Columbia, Mexico, Brazil, Peru, Holland, United Kingdom, Germany, U.A.E, and many African countries.
Onyx has taken a bit of luxury event planning, global services and successful business principals in the digital age and blended them into a network marketing company. We don't feel like your typical network company and that is what has our members so excited.
About Onyx LifeStyle
We are a company built around bringing luxury level services to the average person. When you become a member of Onyx, you will gain access to a digital platform built to save you time, money, increase your wealth, and provide you VIP treatment previously reserved only for the elite.
Private Bank Account: Global banking through your personal account. Connecting you to all the services you need.
Onyx Select Card: As part of your Onyx Lifestyle Membership, you will receive a Select Membership Card. It's not just a card, it's a key to luxury. There are several membership tiers so you can choose what is right for you.
Crypto Conversion: Let us help you bridge the fiat and crypto markets world wide. Buy, Sell, and use Crypto. Connect your crypto wallet to your everyday activities.
Luxury Benefits: You will recieve exclusive access to VIP events that you normally wouldn't have access to. Whether it's sporting events, fashion, movie premiers, concerts, nightlife, etc. Whatever your interests, we will help you gain exclusive access.
LQD8 Blocks: Put your money to work through the micro-lending program that allows you to participate in providing liquidity loans to the crypto market.
Wholesale Travel: Book travel through our powerful booking engine or with your personal Onyx concierge. Get access to the best wholesale travel pricing in the world. Please visit our website for more information: www.onyxlifestyle.com