The Pay-out Percentage To Direct Selling, MLM, Network Marketing Distributors?
July 19, 2019
By Team Business For Home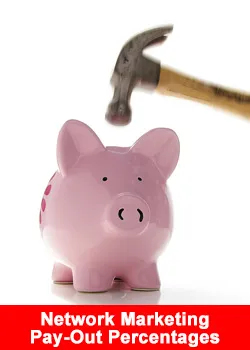 This question is often asked and we have analysed the annual and quarter report (Financial statements) of a number of product driven public network marketing companies. In service driven companies it might be different.
To summarise the pay out margins:
Elepreneurs pays out 51%
LifeVantage pays out 48,4%
NHT Global pays out 45,6%
Youngevity pays out 44,6%.
USANA pays out 44,2%
Mannatech pays out 40%
Nu Skin pays out 40%.
Nature's Sunshine* pays out 34,4%
Herbalife** pays out 27,9%.
Tupperware pays out 15,1%
*Based on Volume incentives. **Based on royalty overrides.
The gross profit margins are:
LifeVantage 83%
USANA 83%
Herbalife 81%
Mannatech 80%
NHT Global 79,5%
Nu Skin 76%
Nature's Sunshine 73,8%
Tupperware 66,6%
Elepreneurs 66,5%
Avon 57,7%
There is a debate going on, if looking into financial statements is good enough:
Richard Bliss Brooke stated:
Financial statements do not tell the story and should never be used to address the subject. MLM company comp plan payouts range from 35-45% of THE WHOLESALE PRODUCT SALES PRICE.
A company like Youngevity may include their coffee roasting sales in their sales…those are from a non mlm division. The 35-45% above is net payout after breakage. They may pay out another 2-3% in incentives which are also 1099 income to the field. What % payout a company can afford and also earn enough profit to invest in the future depends on the cost of the product vs the wholesale price.
Most MLM products have a 6 to 1 markup cost to wholesale. Of course if your product costs $1 to make and you are selling it for $20 you can pay out a much larger %. BUT if your product is marked up that much the odds are it is overpriced which leads to fast growth fueled by hype and the comp plan but a quick demise from no retention.
RETENTION is the holy grail not comp plan payout. Dumb MLMers ask about the comp plan. Smart ones ask about retention.
What would you rather have…1. 50% payout with 10% on the 5th level and 5% to infinity with 20% retention Or 2. 35% payout with 40% retention?
Our challenge as a profession is that too many companies sell products that no one would buy every month for 50 years at the price charged….a price trumped up to fund a fancy comp plan. Overpriced mediocre products leads to zero retention which leads to the demise of the company.
Eric Worre commented:
Iin my opinion ALL Network Marketing companies need to reduce the overall percentage of commissions to get their unique products more in line with competitors.
When they do that, their retention will grow and so will long term profits for all.