Garrett And Sylvia McGrath Join The Corporate Team At Elepreneurs
August 17, 2019
By Team Business For Home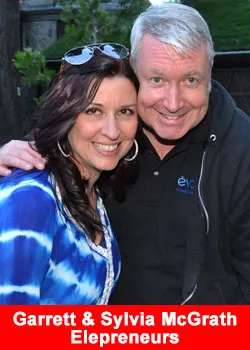 Elepreneurs, a Triple A ranked opportunity, is excited to announce the newest additions to the corporate team – one of the most prolific and influential couples in the network marketing profession today – Garrett and Sylvia McGrath.
Garrett McGrath will serve as Chief Impact Officer and Sylvia McGrath as Chief Experience Officer.
Garrett McGrath has 30 years of experience as a top network marketing professional and has built organizations of more than 150,000 distributors in 21 countries.
Mr. McGrath has served as a Master Distributor for four network marketing companies over the past 25 years and is a highly sought-after keynote speaker, leadership trainer and field liaison. Mr. McGrath has served as President of the Association of Network Marketing Professionals (ANMP) since 2012.
Sylvia McGrath has 25 years of marketing experience, including serving as corporate Vice President of Marketing for a network marketing company, and Vice President of Sales & Marketing for a design firm with Fortune 500 clientele.
Mrs. McGrath is a multi-talented executive with decades of experience in the direct selling industry.
Together, this dynamic duo has provided unique mentorship, leadership training and coaching to both large organizations and individual network marketers throughout the world.
They have produced numerous published articles, websites, videos, tools and guidebooks that help network marketers succeed, been featured in books and magazines, and appeared as guests on many radio shows, podcasts and live events. The McGraths have served on various boards related to the network marketing profession.
About Elepreneurs
Elepreneurs is on a mission to elevate your health, wealth, and happiness. We help you elevate your life through patented nutritional products, life-changing virtual success training, and a unique rewards program.
Elepreneurs actually builds happiness right into our powerful nutritional products. The superior, scientifically backed ingredients stimulate the happiness hormones — dopamine, oxytocin, serotonin, and endorphins — which we refer to as D.O.S.E. For more information, visitwww.elepreneur.com.