iBuumerang Is Growing Fast
August 5, 2019
By Team Business For Home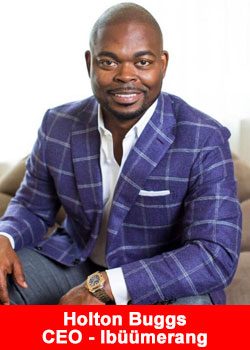 Only four months ago Holton Buggs revealed the ibüümerang brand to the world.
Since that time, ibüümerang has been shattering network marketing records in multiple categories and the company has yet to officially launch. Here is just some of what the company has accomplished since its brand reveal in mid-March:
Over 30,000 active Ambassadors
Over $10 million in commissions paid
Over 1,700 Ambassadors to be recognized at the upcoming Vision 2019 event
Over 215,000 servings of proper nutrition to severely under-nourished children
A community center and playground renovated in Colombia that serves over 4,000 children
What's even more exciting is the numbers of promotions and rank advancements represented by those two numbers above:
127 Sapphires
37 Rubies
18 Emeralds
17 Diamonds
3 Blue Diamonds
1 Presidential Diamond
Chairman and CEO Holton Buggs, had this to say:
"While the numbers are good and exciting, we are much more excited about what's behind the numbers – people whose lives are being impacted greatly by being part of ibüümerang."
The company, still in pre-launch, has announced that its launch event Vision 2019 will take place in Las Vegas August 31-Sept. 2. Over 5000 people are expected to join ibüümerang TSA's (Travel Savings Ambassadors) from all over the world.
Power-Packed Itinerary Includes:
Exclusive Diamond experience the day before the event
Unprecedented recognition rollout for all ranks from Director to Presidential Diamond
High Impact "How-to" Trainings from top producers
Exciting new promotions and updates on existing promotions including travel to Costa Rica,Dubai and many more surprise travel destinations
Corporate reports, updates and vision-casting for the company and affiliated Foundation
Life-enhancing and content rich Women's Empowerment Luncheon
An entertainment program that will rival any Vegas show
…and so much more
About ibüümerang
Launched in March 2019, ibüümerang is fast becoming a global leader in the travel and direct selling space. The mission of ibüümerang is simple: deliver good will in the form of travel savings and reward our Travel Savings Ambassadors (TSAs) with travel savings bonuses in cash. The vision is to create a consumer centric model focusing on an exceptional customer journey and experience.
By creating a worldwide movement of TSAs, we will empower people from all around the globe to live life to the fullest, earn residual income via the PRIBTM (Perpetual Residual Income Builder) and leave a legacy to future generations.
For more information on ibüümerang, its Chairman and CEO Holton Buggs, its top tier executive team please visit www.ibuumerang.com