QNET EXPO in Kazakhstan Draws More Than 6,000 Visitors
August 23, 2019
By Team Business For Home
QNET organized a series of exhibitions in Kazakhstan, which were held in the cities of Oskemen, Kokshetau, Karaganda, Aktobe and Almaty in July 2019. The QNET EXPOs showcased some of the most popular products of the company among Kazakhstan customers: from dietary supplements, cosmetics, to household goods.
More than 6.000 IRs (Independent Representatives) visited the expos to interact with the QNET team, sample the products, and participate in business seminars. Attendees were also able to get acquainted with QNET and company's business opportunities.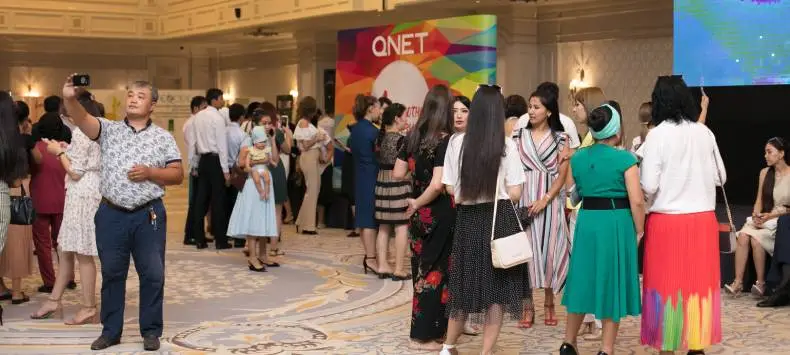 The QVI booth was one of the most popular among the Kazakhstan IRs. In addition, the EXPO also launched new products such as Leya collection jewelry brand and Air Pure Zayn, which were a big hit with the audience.
QNET Product Trainer Denis Bolshakov said
"We were pleased to welcome guests at our second QNET EXPO in Kazakhstan. Everyone had a chance to get familiar with our exclusive products, evaluate their quality and see the potential it holds for entrepreneurial activity.

The most popular products were displayed at the EXPO, such QVI Club holiday packages, as well as Swiss watches from the Bernhard H. Mayer. The exhibition also featured new product launches"
Alia Adelbaeva, Director of the International Consulting Bureau LLP and agent for QNET in Kazakhstan remarked that "QNET has existed in the market of Kazakhstan for quite a long time, 11 years, and for young entrepreneurs, it's first of all a great opportunity to establish their own business on a ready-made platform that does not require substantial investment. And this point is very important, since not everyone is ready for that."
"The exhibition highlighted the topic of plastic recycling and consumption control concepts. QNET welcomes these measures to protect the planet – our home.
QNET produces only high-quality certified products for long term of use, allowing you to adapt to modern conscious consumption trends. Last year, our head office banned the use of disposable plastic and we encourage our IRs to follow this example" added Irina Polyakova, Head of Marketing and PR in Russia and the CIS.
About QNET
QNET is one of Asia's leading direct selling companies offering a wide range of health, wellness and lifestyle products that enable people to lead better lives. For 20 years, QNET's grass-roots business model fueled by the power of e-commerce has helped empower millions of entrepreneurs in more than 100 countries worldwide.
QNET is headquartered in Hong Kong and has a presence in more than 25 countries around the world through subsidiaries, branch offices, agency partnerships, and franchisees.
QNET is a member of the Direct Selling Associations of Malaysia, Singapore, the Philippines, Indonesia, and UAE, as well as the Hong Kong Health Food Association and the Health Supplements Industry Association of Singapore among others.
QNET is also active in sports sponsorships around the world. Some of the more prominent partnerships include being the Direct Selling Partner of Manchester City Football Club and the African Club League Championships of the Confederation of African Football (CAF).
For more information, please visit QNET's website at www.qnet.net