Top Leaders Sadie And Chris Endicott Achieve Ambassador Rank At Elepreneurs
August 6, 2019
By Team Business For Home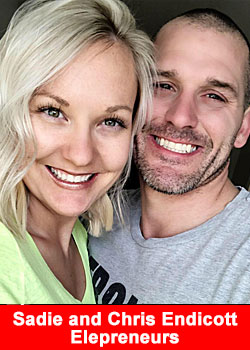 Life often doesn't turn out how we'd expect, sometimes throwing us curveballs we never even saw coming. That was certainly the case with Sadie and Chris Endicott.
Chris was only in junior high when he lost his mother in a tragic accident, which left him with coping and anger issues. After high school, he joined U.S. Marine Corps and found his calling.
"But after a tour to Iraq and four years of service, he was diagnosed with Crohn's disease and was medically discharged from the Marine Corps,"
says Sadie.
"With that came PTSD and feeling lost in the world without purpose."
Then, in 2010, Sadie unexpectedly lost her dad after a short battle with cancer. Shortly after, her sister was diagnosed with breast cancer, and Sadie also tested BRCA2-positive.
"I underwent a prophylactic mastectomy when I was 24 and a total hysterectomy at 28 after having two healthy baby boys,"
she says.
"No one could have ever prepared me for the changes that came with that, both physical and emotional. When you don't feel comfortable in your own skin, it takes a toll on several aspects of your life."
In January 2018, the Missouri-based couple was introduced to smart coffee.
"It sounded too good to be true, but it has changed our life," Sadie adds. "Not only have I lost weight, but I feel like myself again. I actually have the energy to work out and play with my kids after a full day of work. I am more focused, more confident, and more comfortable in my skin than I have been in years," she adds. "The products have also helped Chris tremendously with his Crohn's disease, PTSD, and coping in stressful situations."
Because of the struggles they've faced in their own lives, Sadie and Chris wanted to help others through Elepreneurs. "It is such a blessing to share something so affordable with others to help them feel alive again," she says.
"Elepreneurs gave Chris his purpose back, and the business has allowed us to really change the lives of others, which is what gives us life."
The key to the couple's business success is just getting the product into people's hands. "People are feeling good, losing weight, and are genuinely excited about the results they are seeing. Getting those excited messages from customers and other Elepreneurs on our team lets us know we are definitely in the right place."
About Elepreneurs
Elepreneurs is on a mission to elevate your health, wealth, and happiness. We help you elevate your life through patented nutritional products, life-changing virtual success training, and a unique rewards program.
Elepreneurs actually builds happiness right into our powerful nutritional products. The superior, scientifically backed ingredients stimulate the happiness hormones — dopamine, oxytocin, serotonin, and endorphins — which we refer to as D.O.S.E. For more information, visit www.elepreneur.com.