Melissa Loucas Achieves Crown Ambassador Rank At Elepreneurs
September 16, 2019
By Team Business For Home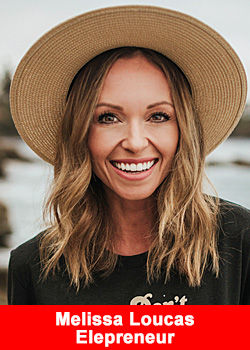 More than seven years ago, San Diego-based Melissa Loucas dipped her toes into the waters of direct sales.
"I was a hair stylist turned stay-at-home mom, living on the other side of the country from family and friends, struggling with depression, and craving a purpose outside of being a mama," she says. So Melissa turned to network marketing for fulfillment … and just so happened to find much more than she bargained for.
A single mom at the time, Melissa was working hard in her direct-sales company, and when she met her now-husband, Brendan, she agreed to a date thinking she could recruit him into her business.
"I recruited him for life instead. Best recruit ever,"
she says. "We fell in love fast and quickly became a family of six." Each went into the marriage with two children, and then a year later, Brendan and Melissa had their own child—the "Brady Bunch 2.0," says Melissa.
The now 33-year-old was introduced to Elepreneurs in November 2018, during the final weeks of her pregnancy. "I had worked very hard for very little and knew that if I wanted change in our lives financially, it would require a change in my direction," she says.
"I needed something so simple that even a busy mom like myself could be successful. What I wanted more than anything was to finally align with a company where my people could win."
When Melissa enrolled in Elepreneurs, her goal was to fully cover her large family's finances. "We'd had a tough year last year financially, and I wanted nothing more than to relieve us of that pressure," she says. A few months into her Elepreneurs business, the family was able to buy the SUV they needed for their big crew. "That was a powerful moment for our family and for our team, who celebrated with us. It expanded our belief in Elepreneurs," she says.
Melissa surpassed that big goal five months in, and her business has grown well beyond that in the months that have followed. "It's even allowed me to bring my husband home to work this amazing business with me," she says.
Melissa says she loves the genuine and humble roots of Elepreneurs. "We believe in just loving on people and celebrating the small stuff. The small stuff is what adds up to the big. That sets us apart from the rest of the industry," she says.
"I'm so grateful to our amazing team and leaders."
As for her advice to new Elepreneurs — and other moms struggling with their identity — Melissa says: "Youare enough. Yourstory is enough. Yourexcitement and passion are enough.  Don't hold back, and don't quit your daydream. Your best life is waiting for you to show up. So, do that. Show up!"
About Elepreneurs
Elepreneurs is on a mission to elevate your health, wealth, and happiness. We help you elevate your life through patented nutritional products, life-changing virtual success training, and a unique rewards program.
Elepreneurs actually builds happiness right into our powerful nutritional products. The superior, scientifically backed ingredients stimulate the happiness hormones — dopamine, oxytocin, serotonin, and endorphins — which we refer to as D.O.S.E. For more information, visit www.elepreneur.com.