Amy Nie Achieves Chairperson Level 9 Rank At ARIIX
October 18, 2019
By Team Business For Home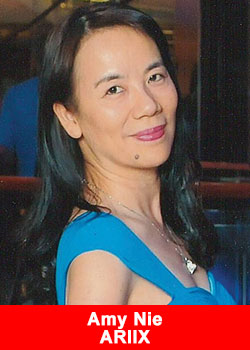 It isn't easy to balance being a mother and a business owner, yet Amy Nie has managed to do it gracefully, and according to her, anyone can do the same. All it takes is the determination and passion to stick with it — putting in the hours that will ultimately lead to results.
Amy was born into a big military family and was taught by her father to be rigorous and disciplined. After graduating university, instead of following the usual career path, she began to learn how to become an entrepreneur. During the ten years she worked in Shenzhen, China, she successfully developed her own business, realizing that this way she could not only enjoy a well-rounded lifestyle, but also a flexible schedule.
In 1994, Amy moved to Canada. Entering an unfamiliar culture with new people and a different language definitely had its challenges. Still, she recognized the importance of creating a global business and was committed to making her way in North America. She continued to learn, grow and develop as a person and an entrepreneur.
In 2001, Amy's son was born, and because she wanted to spend as much time with him as possible and provide every opportunity for him, she began to contemplate new ways to create an even better work-life balance. Five years later, she first encountered the concept of network marketing. She realized that this kind of business, with its flexibility and potential for financial freedom, could give her all the things she had been wishing for.
"Helping others to be successful is the key to success."
stated Amy Nie
Since its establishment eight years ago, ARIIX has continued to flourish and its footprint has spread all over the world. As early as the company's pre-launch days, Amy had formed an indissoluble bond with ARIIX. The company's mission to "unleash the human potential for good" is the same as Amy's own entrepreneurial philosophy. She knew this was the right company for her to pursue building a business with.
As an ARIIX Founders Club member, Amy is a great believer in the company's culture of servant-leadership. She divides her time between North America and Asia, taking care of all of her teammates and customers.
"I believe I only win if all of us win together," shares Amy. "I am very fortunate because ARIIX came at the right time. I saw in ARIIX an opportunity to bring my ability to greater levels. 

ARIIX truly allows me to unleash my potential to help more people experience products that really make a difference in their health, and to share an excellent business plan that can change their lives.

This is a company with a promising future to be the industry's No. 1. I am very happy to be living my dream now."
In 2013, Amy was awarded the first ARIIX China Vision Award. She is committed to joining forces with leaders from around the world to be an inspiring force for good. Amy fully demonstrates the importance of leading by example. She not only focuses on her own business, but also respects and values ​​the needs of each of her teammates, helping them develop their own potential.
Today, Amy is one of the top ARIIX sales leaders in China and North America, recently achieving the elite title of Chairperson Level 6. She attributes her success to continuing to grow as a leader, care for others, and problem solve.
About ARIIX
ARIIX is a unique and disruptive international opportunity company that creates efficacious, toxin-free products developed through collaboration with world-renowned experts and marketed through independent representatives.
The ARIIX opportunity and brands are available in Australia, Canada, Greater China including Hong Kong SAR and Taiwan, Japan, Kazakhstan, Mexico, the Netherlands, UK, France, Belgium, Ireland, Israel, Italy, Russia, Singapore, South Korea, Switzerland and the United States. For more information, please visit https://ariix.com/ or call 1-855-GO-ARIIX.