Bella Amor Bompat Achieves Triple Diamond Rank At Valentus
October 4, 2019
By Team Business For Home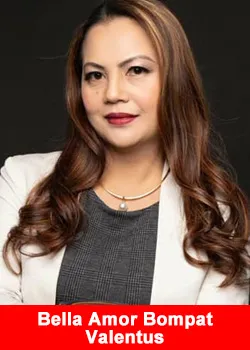 Bella Amor Bompat stated upon het achievement:
Ever since I was young, I always loved selling, but it was just for fun, just enough to buy candy for myself.
It was truly a rollercoaster ride to achieve this level of success, but it was all worth it and changed my personal views on MLM.
I've never been thrifty with money when I was young, my mom worked as a public-school teacher and my father worked for the government forestry dept. My mom was diagnosed with breast cancer and died when I was 9 years old since and then money was always been tight because there was 5 of us and my father was the only one working.
I'm always a happy person who doesn't take problems seriously, I've always been good in dealing with people that's probably why I easily gain peoples trust and it was instrumental in joining this company. I graduated BS commerce major in management and also finished my nursing degree.
Valentus was my first introduction into MLM, I saw Rhealou Malima posted on Facebook about this product that makes you lose weight, but I was skeptical because there are so many products out there.  We have a mutual friend that used the product and started losing weight that's why I bought a tub.
I started as a customer in January 2019 and lost 20 pounds. in 3 weeks.
I immediately saw the potential income and started selling the product by February and when friends and co-workers saw my progress in weight loss they started asking about the product. It was hard for me to introduce the product at first because nobody has heard of it, most of my friends were skeptical and I didn't know who would buy but I still continued to share the product because I believed if it worked for me it can work for anyone.
I had so much passion, determination and very motivated in promoting the product because I know a lot of people will benefit, eventually my friends saw my perseverance and became my customers and signed to become IR's after they saw the income potential.
At that time I worked 2 jobs full time and Valentus part time with the support of my husband I became Emerald in February, April 17,2019 Diamond and by last week of April I became Double Diamond and moved up to Triple Diamond by August, I am now able to experience financial freedom and spend more time with my family I already quit my 2nd job which helped immensely in relieving my back pain. I can also focus more time on the business.
It was truly a rollercoaster ride to achieve this level of success, but it was all worth it and changed my personal views on MLM.
About Valentus
In Latin, the word Valentus means prevail, defined as proving to be superior in strength, power, and influence. Recognizing that, we could n0t have picked a more fitting name for a company that strives to be the example in an industry that deserves a leader to follow.
Since day one, our focus, our passion, and our commitment have been to create a company, a product line, and an opportunity built on a foundation of integrity.
From creating significant levels of income, to building strong networks, healthy long-lasting relationships, making new friends, participating in activities you never even knew existed, having the time to do the things you love with the people you love to be with, VALENTUS can help you PREVAIL in ALL of your goals! For more information please visit www.valentus.com