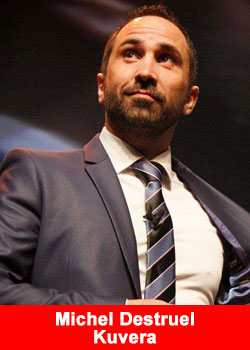 Kuvera Appoints Michel Destruel As VP Of Sales For The European Market
October 13, 2019
Kuvera, a company that delivers financial education, technology and research to individuals through a subscription-based model, announced Michel Destruel as Vice President of Sales for the European Market.
As Vice President of Sales, Michel will optimize growth and implement Kuvera expansion objectives and strategies across Europe, while using his leadership experience to provide needed support to Kuvera's Eurpoean representatives.
Michel is a former top international leader and discovered the Network Marketing industry more than a decade ago. The extraordinary mindset he developed during his career allowed him to quickly propel himself to the highest levels of his company's compensation plan. In 2014, Michel was a member of the Circle of Champions at ACN.
Michel is an outstanding speaker who knows how to convey his emotion and motivation by using his unique enthusiasm. Since the beginning of his career, he has trained, guided and inspired tens of thousands of people around the world.
He has personally shared a stage with Donald J. Trump, and had a page in the "Success from Home" magazine dedicated to both him and his son in 2014.
In 2015, Michel created Network Master Pro, a unique coaching school specialising in the Network Marketing industry. He also conceptualised and launched Spartacus, an innovative and successful coaching method. Michel has been called on by many companies to train thousands of distributors. The multi-millionaire is now recognized as one of the most essential experts of the MLM industry.
Michal stated,
"I am honored to be a part of this company's growth, performance and direction over the long term."
Kuvera is excited to welcome Michel Destruel as the VP of Sales for the European Market.
About Kuvera
Kuvera, a subsidiary of Investview, delivers financial education, technology and research to individuals through a subscription-based model. Kuvera provides research, education, and investment tools designed to assist the self-directed investor in successfully navigating the financial markets. These services include research, trade alerts, and live trading rooms that include instruction in equities, options, FOREX, ETFs, binary options, crowdfunding and cryptocurrency sector education.
In addition to trading tools and research, Kuvera also offers full education and software applications to assist the individual in debt reduction, increased savings and budgeting. Each product subscription includes a core set of trading tools/research along with the personal finance management suite to provide an individual with complete access to the information necessary to cultivate and manage his or her financial situation. For more information, visit kuveraglobal.com
Get more information, fact and figures about Kuvera Global, click here for the Kuvera Global overview.
Recommended Distributors