Planet Impact Appoints Oscar Dalvit As COO
October 31, 2019
By Team Business For Home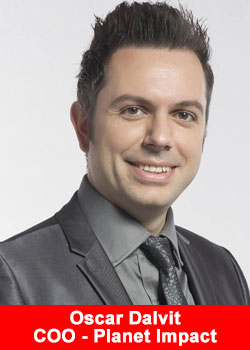 Planet Impact, established in Europe  – with headquarters in SmartCity in Malta has launched the concept of Environmental Selling. After several years of preparation and decades of combined industry experience and innovation new business model emerged, to set new standards to the Direct Selling and affiliate industry.
Oscar Dalvit is co-founder and Chief Operation Officer of Planet Impact. He is working closely with Adrian Szumski, the CEO to grant the expansion of the project.
Who is Oscar Dalvit? He is an entrepreneur for 20 years in the IT industry. He is the owner of www.migastone.com – leader in Apps development for iPhone and Android, author of the book UP APP SELLING a best seller on Amazon.
I'm really excited to bring my corporate and IT experience to this project to grant a powerful and viral expansion over all Europe of the unique worldwide project that aims to save the Planet. –
stated Oscar Dalvit.
Ted Nuyten had the honour to interview Oscar Dalvit:
Oscar, what is your vision of Planet Impact?
Combining the profit and the Planet is the key concept in my vision. Profit allows us to reach incredible goals. Thanks to the profit we have iPhones and Elon Musk will take humanity to Mars.
Profit is the engine that moves forward humanity to unexplored areas. The question is: Why don't use the profit, to create an incredible impact to the world?  This is, in a few words what Planet Impact is. A mechanism, a formula that connects Planet prosperity with your prosperity.
Do you have a mentor?
Yes, I do. My mentor is Dan Pallotta, a famous American entrepreneur, author, and humanitarian activist. He demonstrated why the standard charity sector management is not the answer to the big problems of this world. He raised 582 Million Dollars by changing the paradigm of how to act for a common goal, basically, he applied the For-Profit concepts to Not-Profit projects.
He invested in the leadership and corporate level, skilled employees to have a great team that brings great results. He invested in marketing to improve sales (or effective collections of funds from donors) and he raised significantly more capital, then traditional charity organizations. He introduced the "risk-taking" concept to invest in promising projects, extend the time horizon to focus on best projects. And finally he provided a profit for all parties involved, and use this leverage to improve the sales.
There is a video of Dan Pallotta online, a TED speech of 2013 that really opened my mind. I strongly suggest to watch it, because then everybody will understand the soul of Planet Impact.
But how do you guarantee that we can really make an impact on the world?
Our first target is to create a big fund, with clear environmental goal. We believe that the main issue regarding environmental problems is not missing ideas, but missing money. This is why we are working with Earth Alliance Foundation, a partner founded by Robert Bock, the Marketing Director of Nike Middle East. All our efforts are focused on support this Foundation.
EAF foundation has the only scope to create a fund and finance well known and experienced NGOs around the world, starting from Brazil and Amazonas. A super transparency website will allow each contributor to see where are invested the money, thanks to geolocation technology and backed from blockchain certification.
Robert choose Switzerland as the headquarters of Earth Alliance Foundation, to increase the security of all project. Switzerland has a very stable environment for Foundation activity.  Strong regulation, with good law system and very reliable banking sector provides additional layer of security and is the best place for location of International Non-Profit Foundation.
But what exactly is the product?
The concept is simple, we are selling a monthly subscription of 60€ + VAT, or a yearly subscription of 720 + VAT. Our offer includes the following elements:
The Planet Impact Academy online, the "Netflix of knowledge", where users will find every day new content about environmental, lifehacks, business, marketing, personal growth etc.
Discounts from our partners, starting from 1800€ vouchers of hotel from all over the world are offered for free for everyone who will buy the yearly subscription (for who will buy the monthly subscription the free voucher will be 75€). This immediately shifts the cost of the product with real and tangible benefits. More partners are joining to help us to improve the value of the subscription.
Every 60€+vat subscription saves 1000 sqm of the rainforest. This area EAF expects to save with only a single subscription! EAF will release a geolocated, secured with blockchain technology certificates.
The financial model is simple:
40% of the monthly subscription is paid in commissions to the field.
40% will be transferred to the Swiss-based Earth Alliance Foundation.
20% is going to support the operations of Planet Impact and grant the safety growing of the business
What's next?
We started operations on 1st October. Answer from the market is great. We have already first qualified Affiliates with great earnings, but also we see an incredible commitment of the people, that really are involved in this project.
We are building the next generation leadership in MLM industry. A leadership that will not only earn a lot of money but can claim a BIG value and IMPACT created for this world. If you think is the time for you to join a legitimate MLM BUSINESS with a high purpose, strong as a Product MLM but fast as an Online MLM, is time to contact us. Join our live webinar to learn all details www.planetimpact.eu/joinus
About Planet Impact
Planet Impact vouches to adhere to all explicit and implicit MLM and Affiliate-Business rules, regulations, local and federal tax mandates, and fair practices to build an unshakable foundation on which a high impact business can flourish indefinitely.
Only that way, its stakeholders and communities will be able to reap the full benefits from the Planet Impact ecosystem.
Planet Impact will NOT cut any corners, even at the risk of growth and profitability; as we believe the key to success is long term sustainability upon which the business has to be built. The Planet Impact growth is fuelled by a true customer-based affiliate marketing model.
For more information please visit www.planetimpact.com
About Earth Alliance Foundation
Earth Alliance Foundation is a Swiss non-profit foundation, collecting financial resources not only through donations but also by selling licenses for training courses. The Earth Alliance Foundation is acquiring the licenses for free from 3rd party trainers that support the foundation by sharing their knowledge.
The revenues generated from the licensed content is used to fulfil the main objective of the foundation – SAVE THE PLANET. The foundation is registered in Switzerland and managed by an independent board.  The founder of the EAF Foundation is Robert Bock, President of the foundation is Elia Ponti and Joachim Guenster is member of the board. For more information please visit www.earthalliancefoundation.com