Aron and Cathy Parker Achieve 500k Rank At MyDailyChoice
November 13, 2019
By Team Business For Home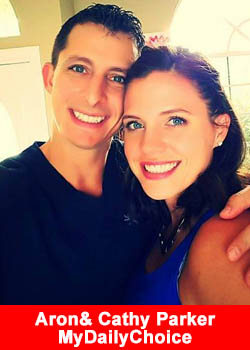 Just two years ago, Aron Parker and his wife Cathy were struggling financially after having little success with two other network marketing companies.
Aron remembers the daily hardship and stress he faced while trying to provide for his family of four. When things were at its worst, Cathy was always there supporting him and providing the motivation their family needed to keep going.
Aron was first introduced to MyDailyChoice by its founders, Josh and Jenna Zwagil. Inspired by the high-quality CBD products and the recent boom in the CBD wellness industry, Aron decided to join the company. Over the past 18 months, Aron's team has grown to thousands of Affiliates. He is extremely dedicated to their professional development and helping them improve their business skills. Aron's consistent effort proved to be of value to his team, and he built his success on a solid foundation.
In October 2019, Aron achieved the impressive 500k ranking at MyDailyChoice. Aron credits his wife, who was right next to him building the business and helping to achieve this remarkable goal together. He's also very thankful for Josh and Jenna Zwagil, who saw his potential and encouraged him to succeed during a difficult time in his life.
Aron Parker stated upon his achievement:
"When my wife and I woke up on the morning of November 1st seeing that we had achieved the rank of 500k, it took us a few days to realize it was real.

We kept thinking, is this real life? It truly feels surreal and amazing. It took 18 months to hit that rank, and we worked extremely hard every single day. It was a TEAM effort – we're so grateful for our entire team. We couldn't have done it without the 'Power Team!'"
To achieve this rank, Aron focused on a number of key tactics. He stayed laser focused on his goal and eliminated all distractions, including other businesses and hobbies. He stayed committed to sales, providing leadership support on a daily basis, and helping others on his team rank up.
Aron shares his success with his 'Power Team' of Affiliates and is extremely proud of their consistent hard work to build their at-home businesses.
Aron is confident the MyDailyChoice opportunity is second to none. With the company's premium products, innovative Back Office, and Affiliate marketing materials, you are provided with free resources to help you build a successful home-based business.
Aron states,
"It has been such an amazing journey with MyDailyChoice this far. To reflect back on early 2018 to now, the journey has been incredible.

And we're not even close to stopping. Now the mission we are on is to help everyone on our team rank up and get to the top with us!"
MyDailyChoice continues to launch innovative new products and brands, and Aron is very excited for the company's continued innovation and dedication to its Affiliates success. He is more motivated than ever to continue building a strong network of long-lasting relationships, and his goal is to positively impact as many lives as he can.
About MyDailyChoice
At MyDailyChoice, we are 100% committed to providing our independent business owners and customers with the most attractive and highest quality product lines within top-trending industries.
Our mission is to empower families around the world through good health, financial opportunities and the smart daily choices that can deliver both. That is why we provide an unprecedented compensation plan and a unique and innovative line of products made with the highest quality CBD oil, grown and manufactured right here in the US.
MyDailyChoice was founded in 2014, merged with HempWorx in 2017, and is currently headquartered in Las Vegas, NV. Under the leadership of Founders Josh and Jenna Zwagil, MDC reached $100 million in sales in 2018. For more information please visit www.mydailychoice.com and www.Hempworx.com
The are no guarantees regarding the income from the MyDailyChoice/HempWorx opportunity. The success or failure of each Affiliate, like in any other business, depends upon each Affiliate's skillset and personal effort. Earning levels for Independent Affiliates are examples and should not be construed as typical or average. Income level achievements are dependent upon the individual Affiliates business skills, personal ambition, time, commitment, activity and demographic factors. To view the MyDailyChoice Income Disclosure Statement, click here.
Recommended Distributors MyDailyChoice