Deanna Latson & Alison Xu – ARIIX Named Finalists In Women Stevie Awards
November 5, 2019
By Team Business For Home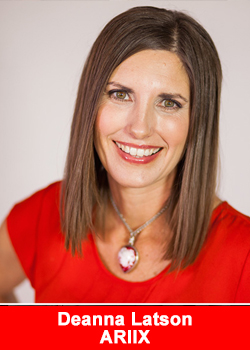 ARIIX, a unique and disruptive international opportunity company,  is proud to announce that CPO and Founder Deanna Latson and Canada General Manager Alison Xu have been named Finalists in the 16th annual Stevie® Awards for Women in Business, and will ultimately be named Gold, Silver or Bronze Stevie Award winners in the program.
 The Stevie Awards for Women in Business honor women executives, entrepreneurs, employees and the companies they run — worldwide. The Stevie Awards have been hailed as the world's premier business awards.
Gold, Silver and Bronze Stevie Award winners will be announced during a gala event at the Marriott Marquis Hotel in New York on Friday, November 15. Nominated women executives and entrepreneurs from the U.S. and several other countries are expected to attend. The event will be broadcast on Livestream.
During the past year, Deanna has logged more than 200,000 miles traveling to 17+ markets around the world; successfully launched a groundbreaking nutritional product; was pivotal in the acquisition of a company that added millions to ARIIX's bottom line; and organized a wide variety of global service, empowerment and self-improvement programs that gave people the tools, products and support to transform their lives.
In her first year with ARIIX, Canada Country Manager Alison Xu has worked hard to prepare ARIIX Canada operations to facilitate growth with ample inventory, flawless deliveries, proper licensing and quality assurance. Following the official launch of ARIIX Canada on September 15, 2018, sales are up approximately 30%. New enrollments are up over 400%.
"To be named a finalist in the Stevie Awards for Women in Business is an incredible honor,"
said ARIIX CPO and Founder Deanna Latson.
"I feel privileged to share this recognition with such a distinguished group of working women around the world."
"This is a tremendous honor and I am so grateful for the recognition," said Canada GM Alison Xu.
"I'm passionate about the Representatives I serve and am honored to work with an incredible team."
Finalists were determined by the average scores of more than 150 business professionals around the world, working on seven juries. Their scores will also determine the Gold, Silver and Bronze Stevie Award placements that will be revealed at the 16th annual awards dinner and presentations in New York.
Details about the Stevie Awards for Women in Business and the list of Finalists in all categories are available at www.StevieAwards.com/Women.
About The Stevie Awards
Stevie Awards are conferred in eight programs: the Asia-Pacific Stevie Awards, the German Stevie Awards, The American Business Awards®, The International Business Awards®, the Middle East Stevie Awards, the Stevie Awards for Women in Business, the Stevie Awards for Great Employers, and the Stevie Awards for Sales & Customer Service.
Stevie Awards competitions receive more than 12,000 nominations each year from organizations in more than 70 nations. Honoring organizations of all types and sizes and the people behind them, the Stevies recognize outstanding performances in the workplace worldwide. Learn more about the Stevie Awards at www.StevieAwards.com.
About ARIIX
ARIIX is a unique and disruptive international opportunity company that creates efficacious, toxin-free products developed through collaboration with world-renowned experts and marketed through independent representatives.
The ARIIX opportunity and brands are available in Australia, Canada, Greater China including Hong Kong SAR and Taiwan, Japan, Kazakhstan, Mexico, the Netherlands, UK, France, Belgium, Ireland, Israel, Italy, Russia, Singapore, South Korea, Switzerland and the United States. For more information, please visit ariix.com or call 1-855-GO-ARIIX.