Industry Veterans Mick & Vick Karshner Join Uforia Science
November 19, 2019
By Team Business For Home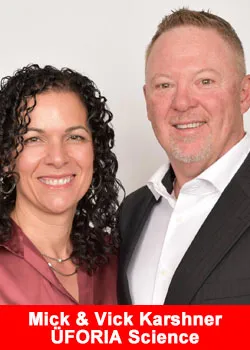 The Karshners will be celebrating their 15 year anniversary in the network marketing profession on Dec. 17, 2019. When they joined their first company back in 2004, Vick was a full time Veterinarian and Mick a boat mechanic.
Mick Karshner stated:
I've never been a person who could promote a product just to build a business.

I have to be passionate and fully believe in the product. When the product gave me my life back by getting me out of my slump, I knew we could passionately promote it.
The industry has changed drastically since we first joined back in 2004. Heck, there wasn't even such a thing as Facebook. Nowadays with Social Media, things are much different. Distractions are at an all time high. We get bombarded daily with offers and opportunities.
We're just tired of the typical MLM hype. At 57 years of age now, I am done with the hype. The hurry up and lock in your spot. FOMO. The revolving door. The rocket ship ride up and even faster back down. The Lambos and mansions. All of that stuff is just not appealing to us anymore.
We're more interested in helping people earn an extra $1000 per month part time by having a loyal base of satisfied customers. This is true long term residual income.
About ÜFORIA Science
ÜFORIA is the only company that takes your DNA to create truly one-of-a-kind custom nutrition made just for you. Our DNA Test unlocks the secrets to your "Actionable Genes" and their influence on your body.
With nearly 400 million unique formulas, this is your very own customized nutrition. Decades in the making – this is exclusive and proprietary software and technology.
To ensure quality and privacy, your DNA analysis is performed in a US laboratory that is CLIA certified and HIPAA. At ÜFORIA™ we exceed the leading security standards and your personal information is kept confidential and secure. For more information please visit www.uforiascience.com