James Tarrosa From Australia Achieves Double Diamond Rank At Valentus
November 11, 2019
By Team Business For Home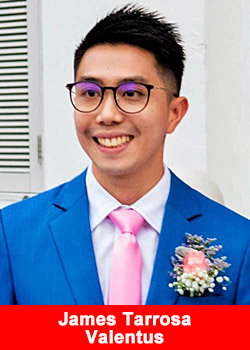 James Tarrosa stated upon his achievement:
I just want to share to everybody how great our industry and our company Valentus is.
I am a Filipino from Australia. I used to work in Singapore for 5 years and that's where I met my beautiful wife Berni and at the same time my sponsor with Valentus, Suria Sparks who is a Double Diamond.
I have been in the MLM industry for 16 years total. I took a break from MLM for around 4 years because I was working full time in Singapore and it was against my job to join any MLM.
Last Dec 2018, we received a mail that me and my wife would be migrating to Australia. I had already told my wife, "I don't want to be an employee anymore. I want to go back to the thing I love most doing, Network Marketing".
I had 5 things in mind, were I ever I go back to the industry.
The focus should be on wellness.
The products must be consumable.
People can buy it online or using ecommerce platform.
It must be global.
It has a proven record for more than 3 years.
At that time I knew it was impossible, but I kept on looking for companies. Honestly, I didn't find any, until Suria invited me to check her coffee business. At first, I was skeptical, but when I saw her that she was in Vegas, my interest was aroused, and I messaged her. The rest is history.
After doing my research, I told her, "ok I'm in". Then I joined and went on to study more about the company and the products. With all honesty, I have never seen such a powerful product backed up with a powerful system in my entire 16 years.
By far this is the best I've ever seen and experienced. All those 5 things that I was looking for were there. I truly believe nothing is Impossible if you just believe and don't settle for less.
For me, I consider Network Marketing as my IKIGAI. Ikigai is a Japanese concept that means "a reason for being." The word "ikigai" is usually used to indicate the source of value in one's life or the things that make one's life worthwhile. It's my PROFESSION, my PASSION, my MISSION and my VOCATION.
I am not really after the big money, the fame, the luxury stuff, but I am after on MAKING A BIG DIFFERENCE ON PEOPLE'S LIVES and UPLIFTING THE INDUSTRY as a whole. I love the GAME more than the money and the fame.
For me, Valentus is the perfect business to start NOW for everyone that is looking out there. We have a product that is effective backed up my thousands and thousands of testimonies. We have the most generous plan out there.
About Valentus
In Latin, the word Valentus means prevail, defined as proving to be superior in strength, power, and influence. Recognizing that, we could n0t have picked a more fitting name for a company that strives to be the example in an industry that deserves a leader to follow.
Since day one, our focus, our passion, and our commitment have been to create a company, a product line, and an opportunity built on a foundation of integrity.
From creating significant levels of income, to building strong networks, healthy long-lasting relationships, making new friends, participating in activities you never even knew existed, having the time to do the things you love with the people you love to be with, VALENTUS can help you PREVAIL in ALL of your goals! For more information please visit www.valentus.com
We just turned 5 years and I know that this is the start of the 1st wave of people that will earn a good income.
Challenges? A lot! But I always get turned on by challenges. I see them as opportunities. And so when I started, people told me nobody will buy that here, it's too expensive. Your entry is so high, no one will join. But I understand them because they are not willing to build the market.
They are not willing to expand. But I am willing to sacrifice a lot of things, work super hard and spend a lot time in my 1st 5 years just to build this business.
I am here for the long game, because I'm on a mission to help thousands of people have better lives because of our company. I don't see myself retiring in this industry.
I encourage everyone reading this to check this opportunity. This could be that piece of the puzzle that can complete your whole life. I am always here ready to help anyone willing to be part of us.