Lyconet Launches New Service Packages
November 19, 2019
By Team Business For Home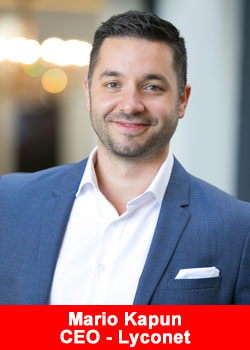 Lyconet launches new service packages
People, who want to gain a foothold in network marketing and be successful on an international level, rely on the Lyconet Business Model. Not only because Lyconet makes it as easy as possible for interested parties to get started in sales, but also because the services that Lyconet jointly with the myWorld group of companies makes available to Marketers, are always up-to-date and meet the highest technical requirements.
"It is very important for us not only to continually work on the existing services and tools, but to also constantly develop new ones. After all, standstill is the greatest enemy of progress",
according to Mario Kapun, CEO Lyconet International AG.
The +Packs rank among the most innovative services packages, which enable Marketers to expand their networks even faster.
With the Marketing+ Pack, for example, Lyconet and myWorld have once again proven that both companies are moving with the times: Part of the Marketing+ Packs is a virtual platform, which enables Marketers to fully exploit the advantages of the digital world and use them when expanding their network.
Thanks to the Marketing+ Pack, Marketers can approach potential partners and customers in an even more targeted way and get them excited about the Cashback World Shopping Community. The Business+ Pack, on the other hand, includes an innovative tool that allows Marketers to view, observe and analyse all relevant KPIs in their network.
"The new +Packs are versatile. The individual components can be used by the Marketers in different areas",
explains Mario Kapun.
Together with myWorld, Lyconet not only provides Marketers with the +Packs, but also with various other programmes and tools to support them when entering network marketing and when expanding their network. This not only includes the necessary technical infrastructure, but also marketing tools and information materials.
A special highlight in the Lyconet service landscape is the Lyconet App. It enables Lyconet Marketers to manage their business flexibly while on the move and to use functions, which makes their work as internationally successful entrepreneurs much easier.
About Lyconet
The Lyconet brand offers those who are interested the opportunity to establish one's own shopping network as an independent entrepreneur, to enthuse consumers across the world with the benefits of the Cashback World Shopping Community and to sell customer loyalty programs to small and medium-sized enterprises.
As a network marketing specialist, Lyconet provides a wide range of professional training, services and tools, in order to offer its sales partners (Lyconet Marketers) the best possible support in their business activities.
Lyconet thereby ensures that the network is continuously expanded in terms of Members, Loyalty Merchants and Lyconet Marketers. For more information please visit www.lyconet.com