WorldVentures Ranked No. 69 On Healthiest 100 Workplaces In America
November 27, 2019
By Team Business For Home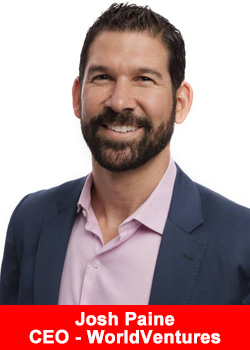 WorldVentures™ Holdings LLC, parent company of the travel industry's direct-sales leader — WorldVentures — is proud to announce its ranking of No. 69 of the Heathiest 100 Workplaces in America.
"Our wellness program provides a comprehensive, holistic and integrative approach to the health of our employees so they can live balanced and purposeful lives.

Wellness is a core part of the company's values, culture and identity, and we are thrilled to have received this recognition once again from Healthiest Employers"
said Josh Paine, WorldVentures Chief Executive Officer.
This award was presented for the company's employee wellness initiatives and corporate wellness programs. More than 1,000 of America's top well-being programs were evaluated for this award across the country.
The 100 Healthiest Workplaces in America is a national ranking by Healthiest Employers® that is determined by a rigorous methodology using Springbuk® analytics software.
It's weighted across local and national assessments that score population health outcomes and measure six key values: vision, culture and engagement, learning, expertise, metrics and technology. Companies of all sizes with health and wellness programs are encouraged to apply. WorldVentures' executive leadership team is committed to the company's Living Well program to help employees lead happier, more productive work and personal lives.
WorldVentures' Living Well program offers wellness initiatives such as Go365 – a personalized program that helps employees set goals to make healthier decisions and rewards them with points to exchange for merchandise or gift cards for meeting their health goals, The company also sponsors group health activity challenges, flu shots, on-site mobile mammograms, wellness and dental exams, health expos, nutrition lunch-and-learn classes, 5K race opportunities and the Whole30 eating plan.
The company also makes healthy food alternatives available in its break room and encourages stress-relief breaks since science has shown that providing downtime helps restore an individual's ability to concentrate and problem solve.
About WorldVentures
WorldVentures Holdings LLC is a privately held company based in Plano, Texas, an affiliate of WorldVentures Marketing that sells travel and lifestyle community memberships providing a diverse set of products and experiences.
The company's goal is to help Independent Representatives, DreamTrips Members and employees achieve more fun, freedom and fulfillment in their lives.
WorldVentures uses the direct sales model to go to market with active Representatives and members worldwide. For more information, visit worldventures.com