Wrapshell Alderson Achieves Royal Diamond Rank At Valentus
November 18, 2019
By Team Business For Home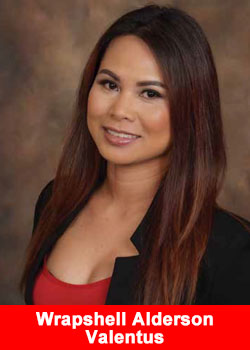 Wrapshell Alderson from  Palo Cedro, California, USA achieved the top rank of Royal Diamond At Valentus, this is what she has to say upon het achievement:
"You don't have to be great to start; you just have to start to be great."
I stumbled upon Valentus because of my personal quest to lose weight. I was desperate and willing to try everything. I got hooked on the coffee, even though I wasn't a coffee drinker.
I joined the company in July 2015. During this time, I wasn't really looking for a business or extra income. I was a full-time realtor in California and pursuing my health care degree as well. Never in my wildest dreams would I consider network marketing a promising career nor profession. I grew up in the Philippines where having a college degree is the ultimate measurement of success.
My personal weight loss experience offers me the opportunity to expand my business around the US and the world.
It was a magical journey for someone like me with no prior networking experience.
I hit Diamond rank in my first 5 months and Triple Diamond in 10 months. I was on the peak of my network marketing career when suddenly the company experienced major challenges and setbacks. Two of my direct uplines started their own weight loss coffee company which greatly impacted my organization.
Distributors moved around, sales went down and so did my rank. I went back to Emerald rank.  It would have been easy for me to turn my back and sell real estate again or join another network marketing company, but I made a commitment to myself and to my team. I have had a strong belief in the company's mission, the ownership, leadership, the products and the people that entrusted their future with me.
The last quarter of 2016 until the 2nd quarter of 2018 were the most grueling months for my organization and for the company. But never for a single day did I doubt my future in Valentus. With great enthusiasm and determination, we as a team, continued to persevere. I treated the business as a long-term endeavor not a quick rich scheme. Challenges and struggles are part of our journey and the choices we make sets us apart from the crowd.
If we stop or give up, how will we know what lies ahead? A determined person will continually rise in-spite of life's conditions. It is easy to give up, to quit and blame anyone for our misfortunes. But ultimately, we are in control of our success and our destiny. If we stay laser focused, committed and consistent, success is within our reach.
Hours before my flight to Orlando, FL last 3rd of September 2019, my flights were canceled due to the hurricane. Instead of landing in Orlando, I end up in Fort Myers, FL, 3 hours away from Orlando. At the very last minute, I found out I cannot rent a car since my driver's license was lost but thankfully, Uber saved my trip. I finished the month of September hitting a major rank promotion, Blue Diamond. By October, I ranked up to Royal Diamond.
Nothing comes easy but with hard work & perseverance, everything is possible. As of this writing, I personally sponsored 2 Triple Diamonds, 5 Double Diamonds and 6 Diamonds.  This industry affords every ordinary person a chance to live their dreams. So dream big every night coz they all come true.
About Valentus
In Latin, the word "Valentus" means "prevail," defined as proving to be superior in strength, power, and influence. Recognizing that, we couldn't have picked a more fitting name for a company that strives to be the example in an industry that deserves a leader to follow.
Since day one, our focus, our passion, and our commitment have been to create a company, a product line, and an opportunity built on a foundation of integrity.
From creating significant levels of income, to building strong networks, healthy long-lasting relationships, making new friends, participating in activities you never even knew existed, having the time to do the things you love with the people you love to be with, VALENTUS can help you PREVAIL in ALL of your goals! For more information please visit www.valentus.com