Gara Group's New-Gen Tech Back-Office Solutions For MLM Companies Is Unrivaled
December 14, 2019
By Team Business For Home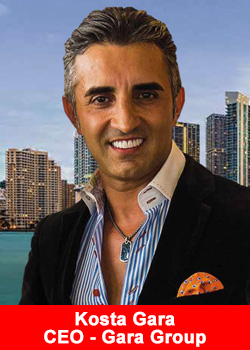 The Gara Group's New-Gen Tech Back-Office Solutions is Unrivaled.
Gara Group is the industry's leading development firm and is partner of both start-ups as mature companies.
Kosta Gara – Founder and CEO Gara Group stated:
Your distributors are the real engine of your business so it is imperative to provide them with a modern and easy to understand back-office that can handle a huge flow of traffic, giving them real-time rank, and bonus calculation so that they can advance and rank faster, and of course, is secure and made to scale for your growth.
Price plays a huge factor and because of that, the mistakes many start-ups make is that they try to develop their back-office themselves (in-house) or they go with a software company that has little to no experience in building MLM back-offices or even understanding the MLM business model.
If you don't have the experience or resources and are tired of spending countless hours researching back-office providers, then it is recommended that you streamline your infrastructure and administrative processes to save you time, money and frustration.

"Measure twice and only cut once!"
There are only two companies on this planet that can claim they're all-inclusive and Gara Group is one of them! They cater to start-ups and established companies looking to reach new levels in every aspect.
Their expert consulting team provides a variety of services, including implementing sales strategies, streamlining your operations, identifying marketing collateral, and developing a global expansion. They also have a dynamic corporate training team that provides private training workshops specifically for your corporate staff.
Their legal team specializes in direct selling compliance and can assist with company structure, annual minutes, resolution, contracts, and agreements.
Their Riselab division provides your customers with ticketing and dedicated live chat, customer service reps, social media managers and supervisors in each department that are all fully trained on your offering as well as on your policy and procedures.
Not to mention, they focus on providing high-volume order fulfillment shipping and logistics – so you can see that they truly have the ability to take everything out of your house and into their house!With over 73 years of combined direct sales experience, they have a proven track record, and the talent to create your vision quickly, cost-effectively – with no hidden surprise fees, and most importantly – they deliver on time!
About Gara Group
Gara Group is a global consulting firm that partners with companies in the Direct Sales industry to assist in launching and scaling operations worldwide.
Kosta Gara is the mastermind behind some of the most iconic products and platforms in the Direct Sales space today and is known for transforming groundbreaking products into household names.
His revolutionary and disruptive style has led him to appear on numerous international media publications, including but not limited to: Forbes, Inc and Televisa, the largest broadcasting media in the Spanish speaking world.
For more information, please visit: www.DevPros.co and www.GaraGroup.com