Jeunesse Among Top Five Winners In The Stevie Awards For Women In Business
December 11, 2019
By Team Business For Home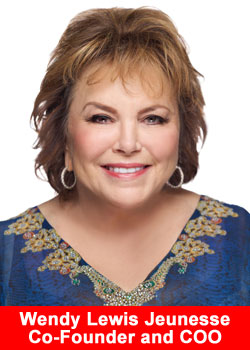 Jeunesse Global was highly honored in the 16th annual Stevie Awards for Women in Business with seven Stevie awards, which were presented Nov. 15 at a gala celebration in New York. The company, its Co-founder and COO, Wendy Lewis and nonprofit foundation Jeunesse Kids were all recognized during the awards program.
Jeunesse garnered a best-of-competition Grand Stevie Award (the program's highest honor) for placing among the top five award-winners in the competition and was selected as the Gold award-winner for Company of the Year—Business Products.
Jeunesse celebrated its 10-year anniversary in September and has maintained billion-dollar annual sales since 2015 when the company became the youngest in direct selling history to reach this milestone.
Wendy Lewis was honored with a total of four awards acknowledging her extraordinary leadership and decades of business success:
Female Entrepreneur of the Year (Gold)
Female Executive of the Year, Consumer Products (Gold)
Woman of the Year, Industry (Silver)
Lifetime Achievement in Business (Sliver)
"It is an honor to be recognized in a competition that has been celebrating the accomplishments of women in business for more than 15 years,"
said Wendy.
"I am truly humbled to be acknowledged for pursuing my passions and hope that any business success I have achieved inspires both women and men to follow the path to their own success."
Jeunesse Kids, which was also founded by Wendy and her husband Jeunesse Co-founder and CEO Randy Ray, received the Silver Stevie Award for Organization of the Year—Government or Non-Profit. Jeunesse Kids raised $4 million in 2018 to help kids in need around the world.
The Stevie Awards for Women in Business is the world's leading business competition honoring female entrepreneurs, executives, employees and the organizations they run.
About Jeunesse
Jeunesse is a global direct selling company with a mission to positively impact the world by helping people look and feel young while empowering them to unleash their potential. The company's exclusive skincare and nutritional products form a comprehensive Y.E.S. Youth Enhancement System. With multilingual customer service, back-office support and a global enrollment system, Jeunesse utilizes a cutting-edge platform to share innovative products, training, and support through 32 fully operational offices to markets in over 145 countries.  Learn more at jeunesseglobal.com.
Recommended Distributors Jeunesse (LaCore Enterprises)