Brazilian Giant Hinode Expands Operations In Mexico – USA Coming Next
January 10, 2020
By Team Business For Home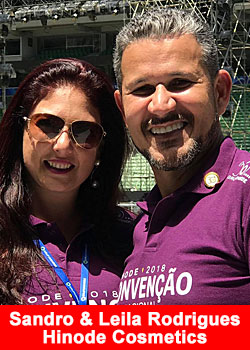 Spanish version below
Hinode Cosmetics international expansion began in 2017 under the HND banner. After 18 months of preparation, the 31 year old Brazilian giant Hinode is set to launch in Mexico.
Hinode's product line currently boasts over 700 products that address 7 different market segments totaling over $500 Billion in size. Along with its extremely successful Consultant network there are currently over 450 franchises in operation in 5 different countries.  In 2020 HND will open 4 HND Centers in Mexico: 2 in Mexico City, 1 in Guadalajara and 1 in Monterrey.
On September 13th, 2019 Hinode initiated a successful 90 day Mexican pre-registration period. During that 90 day period over 5,000 Mexican entrepreneurs joined the company by purchasing a pre-registration Starter Kit.
For the first time in its 31 year history Hinode started manufacturing its products outside of Brazil in order to facilitate its expansion into North America.
On the 7th of December Hinode released the 6 products being manufactured in Mexico at its Pre-Launch event in Mexico City with over 1,800 Consultants in attendance, initiating the official Mexican soft-launch. 
The company added 8 imported products to its Mexican product line on December 21, 2019 and will add several more products to the line in the first quarter of 2020.
Mexico will act as the launching pad for the opening of the US market in 2021.
About Hinode Cosmetics
Brazilian company Hinode launched in 1988 and operated strictly as a direct sales company marketing Cosmetic & Beauty products in its first 20 years. In 2008 the company added a Network Marketing compensation plan to its business model and in 2012 became the first company in the Network Marketing industry to offer a Distribution Center franchising model.  Field leaders have the opportunity to own Hinode-HND Centers under this franchise model and earn additional income.
With these additions Hinode experienced 32,000% growth between 2012 and 2018 – growing from $US2.75M in sales in 2012 to $700 Milllion in sales in 2018.
With the opening of Colombia, Peru, Bolivia & Ecuador in South America the company successfully ventured into Spanish speaking countries.  The addition of the Mexican market will spearhead the company's continued expansion into the North American market in the coming years. For more information please visit www.hinode.com.br or Messenger: m.me/HND.Expansion.Intl
EL GIGANTE BRASILEÑO HINODE ARRANCAN OPERACIONES EN MÉXICO
Después de 18 meses de preparación, el gigante brasileño Hinode, con 31 años de antigüedad, se declaró listo para su lanzamiento en México. El 13 de septiembre de 2019, Hinode inició un exitoso período de preinscripción en México de 90 días. Durante ese período de 90 días, más de 5000 emprendedores mexicanos se unieron a la empresa y compraron su Kit de Inicio de preinscripción.
Por primera vez en sus 31 años de historia, Hinode comenzó a fabricar sus productos afuera de Brasil para facilitar su expansión en Norte América.  El 7 de diciembre, Hinode lanzó los 6 productos que se fabrican en México en su evento de pre-lanzamiento en la Ciudad de México con la asistencia de más de 1800 Consultores, iniciando el lanzamiento "suave" en México. La empresa agregó 8 productos importados a su línea mexicana de productos el 21 de diciembre de 2019 y agregará más productos a su línea mexicana a principios de 2020. México actuará como plataforma de lanzamiento para la apertura del mercado estadounidense en 2021.
ACERCA DE GRUPO HINODE – HND Internacional
La empresa brasileña Hinode se lanzó en 1988 y operó estrictamente como una empresa de venta directa de  productos de Cosmética y Belleza en sus primeros 20 años. En 2008, la compañía agregó un plan de compensación de Network Marketing a su modelo de negocio y en 2012 fue la primera compañía en la industria de Network Marketing que agregó un modelo de franquicia a su programa.  Los líderes en el campo pueden ser dueños de un Centro Hinode-HND bajo este modelo de franquicia y ganar un ingreso adicional.
Con estas adiciones, Hinode experimentó un crecimiento del 32,000% entre 2012 y 2018, creciendo de $ US 2.75 M en ventas en 2012 a $ US 700 M en ventas en 2018. La línea de productos de Hinode actualmente cuenta con más de 700 productos que abarcan 7 segmentos de mercados diferentes que suman a más de $ US 500 B en tamaño de mercado.  Junto con su exitosa red de consultores, Hinode tiene más de 450 exitosas franquicias en operación en 5 diferentes países.  Para arrancar el mercado mexicano, Hinode va a abrir 4 Centros HND en México: 2 en la Ciudad de México, 1 en Guadalajara y 1 en Monterrey.
La expansión internacional de Hinode comenzó en 2017 bajo el nombre HND. Con la apertura de Colombia, Perú, Bolivia y Ecuador en Sudamérica, la compañía experimentó éxito en países latinos. La incorporación del mercado Mexicano encabezará la expansión continúa de la compañía hacia el mercado norteamericano en los próximos años.