Doreen Ruiz Dañas From The Philippines Achieves Triple Diamond Rank At Valentus
January 21, 2020
By Team Business For Home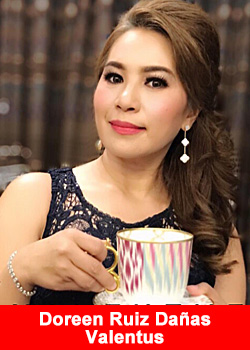 Doreen Ruiz Dañas stated upon het achievement:
I am a single mom of two sons ages 19 and 11, a Triathlete, Health and Wellness Advocate and an Environment Protection Advocate. I started honing my business skills as early as 7 years old by selling food stuffs at school. I have been into Agrivet Supply and General Merchandise business for 24 years up to present and into Construction Supply and Construction Business for 6 years to the present.
 I was a NON-believer of MLM but when I started drinking Valentus coffee it changed my mindset 360 degrees, a complete turnaround so to speak.
Aside from losing weight and becoming healthy my earnings became amazing. Earning so much became awesome and wanted to share more financial freedom to members of my family, relatives, friends and even those that I do not know but were interested in the business. I joined Valentus October 24, 2018 and became legacy coded October 30, 2018
For me a turning point came when I attended the Valentus Leadership Summit in Las Vegas last March 25,2018.  I joined Ironman triathlon in Davao City a day before my flight from Manila.
I became a structured Emerald April 2019, a Diamond on May 2019 and a Double in June 2019. I became and am today addicted to hustling and assisting others change their lives for the better.  I travel to different places to hold "Coffee Talks" so me and my team can passionately share the goodness of our products, educating and teaching the IRS  on how to maximize their earnings.
In October 2019 I became a Triple Diamond. Now I'm enjoying my Mini Cooper as my car bonus and my extra bonus pays for one of my condominium units in Mandani Bay Cebu and  what makes me happy the most is my qualifying all expense trip to Bahamas for two persons. This must me my dream come true.
All these because of hard work, focus, proper mind and goal setting and my attitude  of gratitude. Above all, it's all about faith, guidance and trusting Someone Up Above.
Let me take the opportunity to thank our very generous CEO Dave and Joyce Jordan, my mentors : Dr. Chi Nguyen, Jen Melendez, Suzanne Cariaso, Judy Cinco, Luz Concha Daganzo.
Special mention to these amazing teammates who helped me start Coffee Talks: Double Diamond Marvelous Grace Evangelista and Jessrey Sausa and of most especially to Team Baybay and my  Double and Diamond leaders: Melanie Velasco, Jasmin Yap, Ava Echevarre, Virginia Dañas, Naomi Monteroso and to everyone and everybody in our team.
About Valentus
In Latin, the word "Valentus" means "prevail," defined as proving to be superior in strength, power, and influence. Recognizing that, we couldn't have picked a more fitting name for a company that strives to be the example in an industry that deserves a leader to follow.
Since day one, our focus, our passion, and our commitment have been to create a company, a product line, and an opportunity built on a foundation of integrity.
From creating significant levels of income, to building strong networks, healthy long-lasting relationships, making new friends, participating in activities you never even knew existed, having the time to do the things you love with the people you love to be with, VALENTUS can help you PREVAIL in ALL of your goals! For more information please visit www.valentus.com
Recommended Distributors Valentus