Ling Lin From Indonesia Achieves Triple Diamond Rank At Valentus
February 25, 2020
By Team Business For Home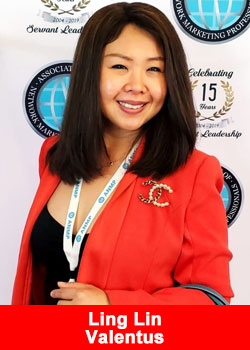 Ling Lin from Indonesia stated upon her achievement:
l never imagined myself being a part of Network Marketing industry.
My journey started in June 2019 and in just a short 5 months later in Oct, I achieved the Triple Diamond rank. I am the first Diamond leader from Indonesia and this achievement belongs to everyone in my homeland team. Their trust, hard work, effort and support made all of this possible.
I am Indonesian by birth and Chinese by blood, I have been in US since I was 17 years old in 1998. Contrary to how most Asian are raised, I was quite an education rebel and a result a high school dropout. My adult life started very early and I've been very fortunate to be doing quite well since becoming an entrepreneur at the age of 20. My then husband and I built and opened 13 restaurants together within 9 years. Since then I have shifted to a fashion related business for the past 12 years.
My relationship with Valentus was not love at first sight. It involved a couple years of watching and observing before even trying the products. Plus two more years as a loyal drinker.
It started with a few friends wanting to know more about the products I've been taking. I am notoriously known for having a serious love affair with food, yet it seems that weight gain is never a problem. I shared my secret and everyone wanted to try, so it's only smart for me to go the Asian way to save money on the bulk purchase. That's how I joined Valentus.
For the first time, I feel home and I feel I belong. More and more friends decided to follow my path which opened my eye's to "this is it". This is what I have been looking for all along. Helping others to improve their health while also getting them steps closer towards financial freedom.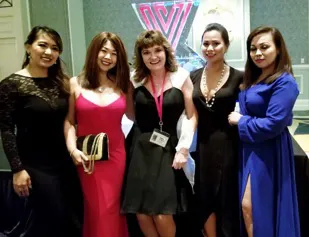 The culture that I experienced as well as the family bond and most importantly the satisfaction of helping so many single moms and breadwinner moms in my homeland Indonesia fuelled the fire within me.
I am a single mom of three girls, and I understand the hardship, especially for those being in an Asian country with a very conservative culture where single moms get no help and are looked down upon.
Valentus seems to be the answer. Unlike traditional businesses, it is affordable for most. The support system and the training is amazing. And regardless of your background, education or experience, this is the business that everyone can join and build at their own pace.
To me, it is not about building a business with the purpose of solely making more money. Someone said "I'd never make it without my ex-husband". I have proven it otherwise.
In everything I do, I do it as an example to show my girls as women we can achieve anything we want in life if we have the passion, the means and the drive. Life is not meant to be easy and we must have perseverance and confidence in ourselves.
Valentus is not about selling the products and making the profit only. We are offering hope and a pathway for everyone's future health and wealth, as well as the family of a lifetime.
"Money is no good unless it contributes something to the community, unless it builds a bridge to a better life. Any man can make money, but it takes a special kind of man to use it responsibly" A. G. Gaston
About Valentus
In Latin, the word "Valentus" means "prevail," defined as proving to be superior in strength, power, and influence. Recognizing that, we couldn't have picked a more fitting name for a company that strives to be the example in an industry that deserves a leader to follow.
Since day one, our focus, our passion, and our commitment have been to create a company, a product line, and an opportunity built on a foundation of integrity.
From creating significant levels of income, to building strong networks, healthy long-lasting relationships, making new friends, participating in activities you never even knew existed, having the time to do the things you love with the people you love to be with, VALENTUS can help you PREVAIL in ALL of your goals! For more information please visit www.valentus.com