The Sterling Family Achieves Royal Black Diamond Rank At Elepreneurs
February 20, 2020
By Team Business For Home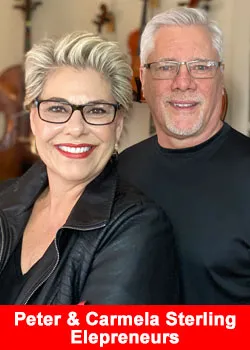 Unlike many Americans, Peter and Carmela Sterling from the USA don't plan on retiring.
That's why the couple found a career they can continue on as they age.
"Together we envision a lifestyle that's free of financial burden for our family as we grow older," says Carmela. "We enjoy keeping current and plan on a young view of life well into our years ahead."
Peter founded and owns a successful karate business, while Carmela is a respected pioneer in the TV Shopping Industry and is a well-known on-camera personality. So the couple knows what it takes to build a successful business.
Peter also had previous successes building residual income in the network-marketing industry.
"When we were introduced to Elepreneurs, we both felt compelled to jump in immediately," explains Carmela. "It was a fresh opportunity with a very compelling, consumable product. And we could lead people where they would experience financial reward for their efforts."
The Sterlings' initial goal with their Elepreneurs business was to replace Carmela's income after her TV career came to a wrap, "but we were able to achieve that in the first three months," says Peter. "Ultimately, though, we're building for our son, PJ, who has Down Syndrome and will need one-on-one care the rest of his life."
Once the couple joined Elepreneurs, Carmela and Peter quickly realised they were in the right place. "The culture that's created here is a real community of genuine support and integrity" says Peter. "There's absolute transparency in everything Elepreneurs does. That's such a unique combination."
Speaking to the company's one-of-a-kind offerings, the Sterlings have seen the fruits of their efforts of sharing health, wealth and happiness "We have so many customers with profound results from the product, teammates paying off mortgages, taking much-needed vacations, and providing the day-to-day necessities for their families," says Carmela. "All of that is a reality now. The pursuit of happiness is attainable, and everyone feels welcome here!"
About Elepreneurs
Elepreneurs is on a mission to elevate your health, wealth, and happiness. We help you elevate your life through patented nutritional products, life-changing virtual success training, and a unique rewards program.
Elepreneurs actually builds happiness right into our powerful nutritional products. The superior, scientifically backed ingredients stimulate the happiness hormones — dopamine, oxytocin, serotonin, and endorphins — which we refer to as D.O.S.E. For more information, visit www.elepreneur.com.
Recommended Distributors The Happy Co.