Bill And Dawn Ball Achieve Diamond Rank At Valentus
March 31, 2020
By Team Business For Home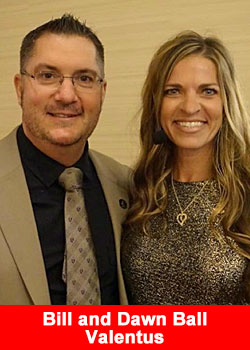 Bill and Dawn Ball make Diamond in under 2 weeks and stated:
We received notice March 1, 2020 from our company of 8 years, that they would no longer need us.
Our key question was, "Where can my family, friends, customers and team mates be safe, happy, prosperous, have maximum support and call it home?"
Things happen fast and flawlessly, as if guided by an invisible hand. It's like Wallace Waddles talks about in my favorite 30 minute You Tube clip "How to get what you want". He talks about a deity who's will it is for abundance for all at the expense of none.
How, if you have this "mind", it's of the same "mind" that created heaven and earth. You cannot fail if you are in alignment with this "mind". This "mind" wants good for all and "abundance" for all, while not competing or hurting others in the process. If this is your hearts desire, there is no way that this "mind" will fail to deliver to you exactly what you ask for.
This is what happened. In just two weeks time, we contacted the right people into place to form a team that also has "this mind" for abundance for all. Our team is thriving at our new company named Valentus.
My wife said to me today, "This is only the beginning Bill, we are going to bless so many people through this opportunity". I told her she's right. We're going to be able to help so many people. The power of this compensation plan is like nothing I have ever seen. The "POWERLINE" allows us as leaders to build a massive organization that everyone can share in. This is very valuable.
Now is definitely the time to get into Valentus. Dawn and I know timing, and we've hit it right in the past many times. We built our first multi-million dollar business in high school, from a Dodge Caravan we borrowed from my Dad in 1987. We took the seats out and loaded it with a lawn mover and wheel barrows. We sold our business and real-estate in 2008, instinctively, right before the crash.
Timing is everything in life and business. This timing at Valentus will not repeat itself. There is a window that I call the "sweet spot", that will not stay open forever. We are in this sweet spot right now at Valentus. The company is at $90 million a year and headed North of $100 million in 2020. After that, the sky is the limit.
With the proven leadership and tireless work ethic of Founder and CEO Dave and Joyce Jordan the company has the funding and foundation to go the distance so our team can build a legacy here.
Master Distributor, Author and amazing leader Mr. John Haremza has proven himself time and time again to be a consistent voice with the heart of a Lion. If you look at John's past successes in the industry and his 4 years here at Valentus, it's an easy decision to make. Success leaves clues.
Many blessings to come…..stay tuned!
About Valentus
In Latin, the word "Valentus" means "prevail," defined as proving to be superior in strength, power, and influence. Recognizing that, we couldn't have picked a more fitting name for a company that strives to be the example in an industry that deserves a leader to follow.
Since day one, our focus, our passion, and our commitment have been to create a company, a product line, and an opportunity built on a foundation of integrity.
From creating significant levels of income, to building strong networks, healthy long-lasting relationships, making new friends, participating in activities you never even knew existed, having the time to do the things you love with the people you love to be with, VALENTUS can help you PREVAIL in ALL of your goals! For more information please visit www.valentus.com
Recommended Distributors Valentus