Brittany Gardner Achieves Royal Black Diamond Rank At Elepreneurs
March 10, 2020
By Team Business For Home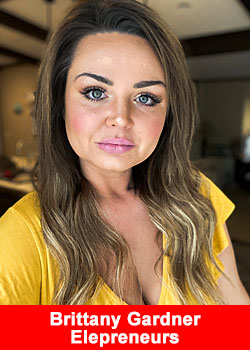 Brittany Gardner lives a simple country life in a small Mississippi town with her family—husband, Kale, and sons, Kayson and Kallen.
But small towns still breed big goals. "I've always dreamed of making an income from home," Brittany explains. "I've done crafting, monogramming, and many other things from home with little to no success." That all changed, though, with Brittany's introduction to Elepreneurs.
By using and sharing the products Elepreneurs offers, Brittany says she's "been able to elevate my life and also impact people around me." Her ultimate goal, though? To bring her husband home.

"He works on the road full time," she explains. "We would love to have him home with us every night so he doesn't miss out on the boys growing up."
As the months go by, Elepreneurs is helping Brittany reach that milestone. And to help drive her success, she turns to social media. "I've always made genuine and authentic relationships with people using social media," she says.
"Whether they join me in my business adventure or not, I truly want to see my friends succeed and eventually make it to the top women in network-marketing events."
Thanks to Elepreneurs, Brittany says her family has been able to pay off plenty of debt and take vacations. "We're mostly making memories with the kids," she adds. "This has been a huge blessing to our family."
Brittany's own advice has paid off in her Elepreneurs business, and she hopes it pays off for others in the industry as well: "Run as fast as you can. Never give up. Love people, and love on people. Just be a friend first and foremost."
About Elepreneurs
Elepreneurs is on a mission to elevate your health, wealth, and happiness. We help you elevate your life through patented nutritional products, life-changing virtual success training, and a unique rewards program.
Elepreneurs actually builds happiness right into our powerful nutritional products. The superior, scientifically backed ingredients stimulate the happiness hormones — dopamine, oxytocin, serotonin, and endorphins — which we refer to as D.O.S.E. For more information, visit www.elepreneur.com.
Recommended Distributors The Happy Co.