Candace Byrd Davis Achieves 250K Affiliate Rank In MyDailyChoice
March 5, 2020
By Team Business For Home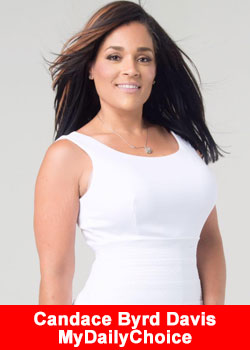 Candace Byrd Davis achieves 250K Affiliate and is first African American female to ever achieve the rank in MyDailyChoice.
Candace builds the business with her husband Javon and is a mother of two boys. Candace stated upon her achievement:
I joined Network Marketing while I was financially strapped almost five years ago. I joined after going through two repossession and a foreclosure, all within a 45 day period. Despite my personal struggles, Network Marketing felt like a way out for me and my family.
"Life before MDC was a little chaotic. I had made the decision in November to part ways from my previous company. But I knew, in order to get something different, I needed to do something different."
Even though I was skeptical about CBD, I joined MDC in December because of what the products did for someone very close to me. I wanted to find a product that people would buy with or without a compensation plan attached to it.
"After falling in love with the products, I met the CEO and Co-Founder Josh & Jenna Zwagil. They lead with love and they are the first founders I've worked with who are so hands-on with the field. The leadership and tools available blew me away." Achieving the rank of 250K Affiliate and being the first female African American to do so was an incredible accomplishment for my team.
The rank is not mine, it's my team of amazing leaders. I love coaching them and watching rising leaders change their lives. Candace speaking at MDC 3rd Annual Convention "I achieved this rank with the company primarily focusing on the USA market.
With all of the recent international expansion, I already have teams growing throughout Africa, Europe, and Asia. I have my eyes set on the top rank in MyDailyChoice.
About MyDailyChoice
At MyDailyChoice, we are 100% committed to providing our independent business owners and customers with the most attractive and highest quality product lines within top-trending industries.
Our mission is to empower families around the world through good health, financial opportunities and the smart daily choices that can deliver both.
That is why we provide an unprecedented compensation plan and a unique and innovative line of products made with the highest quality CBD oil, grown and manufactured right here in the US. MyDailyChoice was founded in 2014, merged with HempWorx in 2017, and is currently headquartered in Las Vegas, NV. For more information please visit www.mydailychoice.com and www.Hempworx.com
Recommended Distributors MyDailyChoice