Enhanzz Global Launches Sanitize
March 16, 2020
By Team Business For Home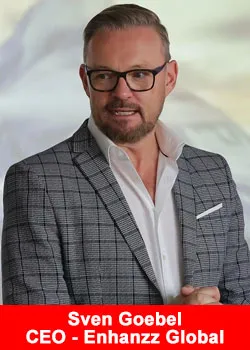 Swiss startup ENHANZZ Global has reacted quickly on the current global situation and released some announcements in regards to both their product lines and business opportunity.
Within very short preparation time, the ENHANZZ product team created a truly popular product: SANITIZE is a powerful, alcohol-containing yet moisturizing anti-bacterial and anti-viral hand-sanitizer that will ship no later than the end of this week.
An announcement Zoom Call with this great news as well as additional positively surprising announcements has been conducted last Sunday night with hundreds of Brand Partners from across Europe in attendance.
The reaction was overly excited, as there is probably a no better product to market nowadays than one that supports hygiene due to its antiseptic effect and as such is sold out in many public places. At the same time, ENHANZZ CEO Sven Goebel and his team stated clearly that people have to refrain from any medical or health claims when it comes to product advertisement.
Their products are made to support beauty, health and how hygiene, all of what people should generally be concerned about, not only nowadays.
CEO Dr. Sven Goebel:
"We at Enhanzz always aim to create products and services that support improving people's lives or solving a true problem. We diligently analyse the market and our potential customer's real needs. We speak with them about their challenges and resulting demands. Then we instantly take action to create something that can make a difference in their lives.

While the idea about a sanitary product came up quite some time ago, the plan of action only became executed since last week. In order to plan, strategize and assemble such a highly-demanded product plus its execution plan was a masterpiece and a stellar team performance.

We can now contribute to the current demand and use our powerful and dynamic network as a multiplier to reach as many people as possible, in no time."
With those kinds of dynamics, it is of no surprise the company has been growing at 35-45% month after month, which is expected to increase even more with the many impactful announcements put into effect.
About The ENHANZZ Holding
The ENHANZZ Group of companies is a 2018 inaugurated, European based consumer product and distribution company group from Switzerland.
The founders Dr. Sven & Audrey Goebel and Sven & Christina Hennige, heavyweights in both the direct sales and corporate field, believe that it was the right time to launch that modern, tech-oriented, consumer-friendly global company group from Europe.
By identifying as Swiss-based, they are making their own commitment to exceptional standards in every aspect of the company's products and operations, offering fashionable, high quality, Swiss-made consumer product lines.
About HANZZ+HEIDII
The exclusive HANZZ+HEIDII natural vegan skincare line for "HIM" and "HER", is a cutting edge, active symbiosis between nature and biotechnology, including its proprietary "Magic Swiss Code" formula, and its "Made Without" referring to its commitment that all products are non-animal tested and free of any harmful irritants and additives.
Currently, there are 9 products available for "HER" including a cleanser, serum and day/night cream; 4 for "HIM" also featuring a cleanser and serum  plus 1 unisex facial mask. For more information please visit www.hanzzandheidii.com and www.enhanzz.com