Industry Veterans Bill And Dawn Ball Join Valentus
March 10, 2020
By Team Business For Home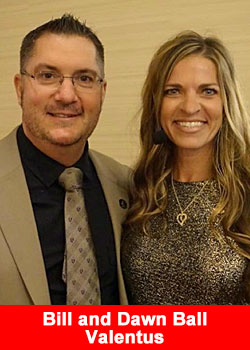 Bill and Dawn say:
Neither my wife Dawn or I could have told you this before we started on this amazing, rewarding and sometimes heartbreaking journey in 2008 when I said yes to a guy named Dan that asked me at the first "Private Business Reception" I had ever attended "Are you ready to get started?"
I handed him my Discover card for the $499 fee and said: "Who wouldn't be, let's go"!  That response has propelled us onto one of the greatest journeys of our lives thus far.
Over the years, Dawn and I have built a family, multiple businesses, been real-estate investors, made millions of dollars and lost millions of dollars, been on welfare twice, been recognized as top-earning Blue Diamond Distributors in the Network Marketing Industry and traveled the world.  The biggest takeaway from our 33 years in business is the relationships we have made along the way.
Just recently, JAVITA, a company we had been with for eight years had given us notice that as of March 1, 2020, they were changing their business model and as such, they did not need our services anymore. This came as quite a shock to us however, we knew that when one door was closed, another one was ready to open. We quickly began conversations with a few top leaders we had met in our journey of Network Marketing over the last 12 years. We were looking for a new business that we could trust, and it was a priority to find the right place that we could call home.
Shortly after the shock of losing the business, we had spent 8 years building we received a call from a friend, John Haremza.  John was the Master Distributor of JAVITA when Dawn and I started with the company in 2012.  We had developed a great friendship during the time that John and I worked closely together for over four years.
We traveled the country together doing public speaking events from Florida to Canada and everywhere in between. When John called, I informed him that I had already made a decision and I appreciated his call, but we were signing with another company and that I'd keep in touch with him like I always had over the past eight years. John indicated that he respects our decision, but suggested that we should think it over and at least take a look before we make an announcement. I went to sleep that night, and those words kept echoing in my head. John was right. I hadn't even given his company a fair look.
I trusted John and he had always proven himself to be of high integrity and always made the right decisions.  The next day, Dawn and I got on a phone call with John and the CEO of Valentus, Mr. Dave Jordan.
After a half-hour conversation, Dawn and I were convinced that we needed to take a closer look at this company.  Dave's energy could literally be felt through the phone. 
At one-point Dawn said, "the hair on my arms are standing on end".  The stories he shared with us demonstrated his commitment to the distributors in Valentus. The thing that most appealed to us was that Dave had also been a distributor several times in his career.  He understood what it was like to build a network marketing business.
He was a believer in fighting for the "underdog" as he put it.  After carefully reviewing all of the information and comparing the companies we were looking at, it became very clear that Valentus was the best fit for us.
After a visit to the Corporate Headquarters in Sioux Falls, South Dakota and meeting Dave and his beautiful wife Joyce and hearing their story, we realized that this was the company we had to plant our flag with.  It's not easy to explain the feeling that we had from meeting these two incredible leaders.  They are servant leaders. Dave said "he married the first girl he ever dated", and it's evident the deep love they share for each other and their deep love of their Valentus Family.
On  March 8th, 2020, we officially launched our Valentus Business.   We are excited to introduce any former customers or members of the other "weight loss coffee" teams to a new and better cup of  "weight loss coffee" and better products. We feel this company has a business model and products that are done right!  This is where Dawn and I will build our legacy and fulfil the prophecy that we committed to over ten years ago.  We look forward to the future.
About Valentus
In Latin, the word "Valentus" means "prevail," defined as proving to be superior in strength, power, and influence. Recognizing that, we couldn't have picked a more fitting name for a company that strives to be the example in an industry that deserves a leader to follow.
Since day one, our focus, our passion, and our commitment have been to create a company, a product line, and an opportunity built on a foundation of integrity.
From creating significant levels of income, to building strong networks, healthy long-lasting relationships, making new friends, participating in activities you never even knew existed, having the time to do the things you love with the people you love to be with, VALENTUS can help you PREVAIL in ALL of your goals! For more information please visit www.valentus.com
Recommended Distributors Valentus