Isagenix Appoints Gary Gallant As Chief Information Officer
March 28, 2020
By Team Business For Home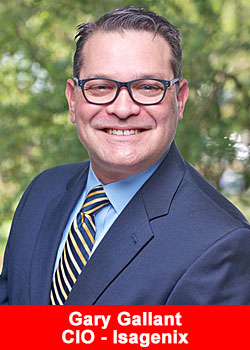 Based on his exceptional work as interim chief information officer, Isagenix International has named Gary Gallant as its permanent CIO. 
In this executive leadership team role, Gallant establishes and executes the global health and wellness company's technology vision, ensuring Isagenix can provide a smooth shopping experience for customers and digital tools that help independent distributors run their businesses.
Gallant, who has more than 25 years of executive experience, had served in the interim CIO position since September. During that time, he developed, led, and strategically implemented several key IT initiatives, including enhancing e-commerce efforts and the payment consolidation process as well as launching Salesforce Service Cloud, a customer service software solution.
"Thanks to Gary's vast knowledge of the IT industry, Isagenix has streamlined and improved the customer experience so we can best help customers reach — and sometimes surpass — their health and wellness goals,"
said Isagenix Chief Executive Officer Travis Ogden.
"Our executive leadership team is thrilled to have him on board as the company continues its digital evolution."
Gallant said he's enjoyed being part of the leadership team and immersing himself in the Isagenix culture.
"Everyone I talk to here is passionate about the company, and their excitement is contagious," he said. "I've become a 'product of the product.' The transformation I've experienced from using Isagenix has deepened my belief in this business. I look forward to helping people around the world make healthy changes that not only improve their lives but also inspire others to follow in their footsteps."
Prior to Isagenix, Gallant served as interim CIO at a direct selling company where he was responsible for assessing the organization's technology, implementing improvements, reducing costs, and ensuring the success of several major initiatives. He also had several senior technology positions and has implemented global business systems and IT transformation models.
About Isagenix International
Established in 2002, Isagenix provides systems for weight loss, performance, vitality and well-being, personal care and beauty, and financial wellness​. With more than 400,000 customers worldwide and more than 100 products, packs, and systems globally, the company is committed to supporting healthy change in its customers' and independent distributors' lives.
Isagenix shares its products and solutions through a network of independent distributors in 14 markets: the United States, Canada, Puerto Rico, Hong Kong, Australia, New Zealand, Taiwan, Mexico, the United Kingdom, Ireland, the Netherlands, Belgium, Spain, and South Korea. Isagenix is a privately owned company with headquarters in Gilbert, Arizona. For more information, visit Isagenix.com​.
Recommended Distributors Isagenix