Lyconet Stands Strong In Solidarity And Optimism
March 20, 2020
By Team Business For Home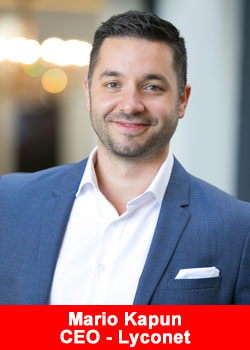 According to a Lyconet press release:
Now is the time to stay true to your positive mindset and regard the current challenge as an opportunity to further develop your own skills and bring your team closer together, this holds true for all Lyconet Marketers.
As a Network Marketer your team is typically made up of highly motivated and successful people. It is therefore even more important to know how to motivate your team through these times and help them reach their peak. It is also necessary to keep calm, act wisely and focus on your team's full potential. "
All Lyconet Marketers should focus on staying healthy while also being closely linked to the online world. Now more than ever it is important to network across all borders and to strengthen your relationships with your contacts via a digital platform",
emphasizes Mario Kapun, CEO Lyconet International AG.
Lyconet Marketers should look at the current situation as an opportunity, an opportunity that can only make us and our individual teams stronger. The privilege of home office Not all entrepreneurs are able to work from home and still keep their daily business up and running.
Lyconet Marketers can benefit from the Lyconet business model's unique selling point, which allows them to work from home, hold virtual meetings and run their business with only a smartphone, tablet or laptop. One such useful tool in their line of business is the WebinarWorld platform. This platform forms part of the Marketing+ Pack, one of the latest and most innovative products that Lyconet has put on the market.
Lyconet Marketers can use the WebinarWorld platform to contact interested parties in a more targeted approach and to thus enthuse new Marketers for the wonderful world of Lyconet. Especially in times such as these, Lyconet provides the perfect setting for establishing and expanding your own shopping network, thus making the most out of the time spent in your own four walls.
Supporting one another In addition, Lyconet Marketers and any who wish to become one can also benefit from the versatile range of products available on the online marketplace myWorld.com. As a partner of the Cashback World shopping community, myWorld offers its customers millions of products for daily usage.
But let us not forget the numerous regional merchants, such as apothecaries and grocery stores, that are also part of Cashback World, where you can purchase the most important goods. You are therefore not only strengthening the shopping network on a virtual basis but are also helping small and medium sized enterprises.
"It is now particularly important to strengthen one's community and demonstrate our solidarity. We should make the conscious decision and focus on buying from Cashback World partners.",
urges Mario Kapun.
About Lyconet
The Lyconet brand offers those who are interested the opportunity to establish one's own shopping network as an independent entrepreneur, to enthuse consumers across the world with the benefits of the Cashback World Shopping Community and to sell customer loyalty programs to small and medium-sized enterprises.
As a network marketing specialist, Lyconet provides a wide range of professional training, services and tools, in order to offer its sales partners (Lyconet Marketers) the best possible support in their business activities.
Lyconet thereby ensures that the network is continuously expanded in terms of Members, Loyalty Merchants and Lyconet Marketers. For more information please visit www.lyconet.com