MLM Icon Jeffrey Babener Passed Away
March 18, 2020
By Team Business For Home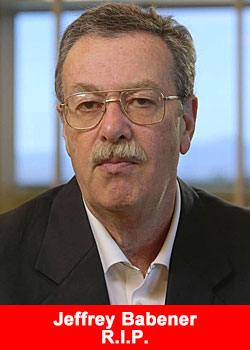 Kevin Thompson – The MLM Attorney stated:
The industry lost one of its greatest advocates. When I first heard the news, I had to double-check to confirm the accuracy. It's so very saddening. Jeffrey Babener passed away today.

He was a kind man, a fantastic attorney, a fierce competitor, a mentor and a friend. I really looked up to him. He was nothing but fair and generous with me. We've lost a powerful voice in our industry.
About Jeffrey Babener:
Jeffrey A. Babener is the principal attorney in the law firm of Babener & Associates. Mr. Babener is a graduate of the University of Southern California Law School and a member of both the California and Oregon State Bars. Mr. Babener was a member of the editorial board of the University of Southern California Law Review and has served on various state and American Bar Association committees, including chairmanship of the Oregon State Bar Committee on Judicial Administration. For a detailed biography of Mr. Babener you can read his Biographical Profile from Martindale-Hubbell.
He represents leading U.S. and foreign companies in the direct selling industry.
He has been a key advisor to such companies as Avon, Amway, Team National, Herbalife, Discovery Toys, Nikken, Shaklee NuSkin, Excel, Usana, Fuller Brush, Cell Tech, Enagic, Sunrider, Melaleuca, Nerium International, etc. He is a frequent lecturer and has been interviewed on the industry, and published, in such publications as Money, Inc., Atlantic Monthly, Success, Entrepreneur, Kiplinger's Personal Finance, Home Office Computing, Business Start-Ups, Direct Selling News Magazine, and Money Maker's Monthly. He is editor of the industry publication, Direct Sales Legaline.
Mr. Babener is also the author of the books; Tax Guide for MLM/Direct Selling Distributors, Network Marketer's Guide to Success, The MLM Corporate Handbook, Network Marketing: Window of Opportunity, and Network Marketing: What You Should Know (used as the college curriculum textbook at Utah Valley State course on network marketing). He is editor of one of most frequented network marketing educational web sites, www.mlmlegal.com . He has served as Chair of more than 70 national conferences on starting and running the direct selling company.
He serves on the Lawyers Council and Government Relations Committees of the Direct Selling Association (DSA), and he has served as General Counsel and on the board of the MLMIA (Multilevel Marketing International Association). He has lectured at major industry trade meetings and at such educational institutions as the Univ. of Illinois, University of Texas, University of Houston, etc. He is a graduate of the University of Southern California Law School where he served as an editor of the USC Law Review, followed by the appointment as a law clerk to Hon. David Williams, U.S. District Court for the Central District of California.