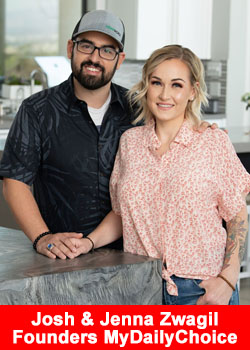 MyDailyChoice Sales Up $70 Million For 2019 To $170 Million
March 3, 2020
"We look forward to a record-breaking 2020 with international expansion and new innovative product launches on the horizon",
says CEO and Founder, Josh Zwagil.
MyDailyChoice ended 2019 with their 3rd Annual Convention with several new HempWorx product launches as well as unveiling two new brands – Mantra Essential Oils and High Life Travel.
Josh says,
"Our strategy in 2020 is to not only continue being a leader with CBD but to expand into exciting product categories as we set our business up in Africa, Europe, Asia, and Latin America. If we can achieve the growth we did in just one market, we should be able to 10x it worldwide."
MyDailyChoice has expanded its international operations by hiring top level management to support international growth as well bringing on a team of certified linguists for translations.
Jenna Zwagil, Co-Founder stated:
"We finished 2019 with $170,000,000 in sales which is up from $100,000,000 in 2018. In order to support this growth, we've surrounded ourselves with the best corporate team so we are prepared to get to the next level."
MyDailyChoice has 6 Roadshow Events  along with their 4th Annual Convention planned for 2020 where they will be announcing new markets open for business, exciting marketing tools available to the field, and new product launches.
About MyDailyChoice
At MyDailyChoice, we are 100% committed to providing our independent business owners and customers with the most attractive and highest quality product lines within top-trending industries.
Our mission is to empower families around the world through good health, financial opportunities and the smart daily choices that can deliver both.
That is why we provide an unprecedented compensation plan and a unique and innovative line of products made with the highest quality CBD oil, grown and manufactured right here in the US. MyDailyChoice was founded in 2014, merged with HempWorx in 2017, and is currently headquartered in Las Vegas, NV. For more information please visit www.mydailychoice.com and www.Hempworx.com
Get more information, fact and figures about MyDailyChoice, click here for the MyDailyChoice overview.
Recommended Distributors