Well Beyond Announces A Strategic Alliance With CoinZoom
March 4, 2020
By Team Business For Home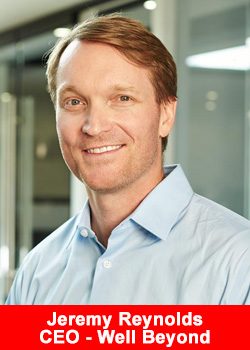 According to a press release:
Well Beyond, based in Salt Lake City, Utah, announces the company's next phase with the official launch of Beyond in May 2020.
The launch of Beyond includes the merging of multiple companies and centers around an innovative multi-category strategy, beginning with the introduction of its new digital category – Beyond Wealth. 
With innovation at its core, Beyond is launching the Infinite Success App to enable a true multi-category experience and serve as a proven system for launching Beyond's current and future categories. 
"This App will create a first of its kind experience for our members. It will give our members the ability to recreate the launch phase of a new company with each new product category launched using our exclusive app,"
said Jeff Graham, Co-Founder of Well Beyond.
Beyond will also be a leader by introducing innovative technologies from other channels into the industry. After evaluating and meeting with companies all over the world, we are excited to officially announce a strategic alliance with CoinZoom. 
"We have already onboarded many of our top leaders and they are blown away with the CoinZoom platform. Whether experienced in digital currency or a newcomer, the CoinZoom platform allows people to bridge the gap between traditional currency and digital currency."
explain Jeremy Reynolds, Co-Founder of Well Beyond
The relationship Beyond has successfully architected with CoinZoom will create a unique ecosystem for Beyond members. We are not only onboarding members to the CoinZoom platform but adopting the CoinZoom ecosystem throughout Beyond. CoinZoom serves as an inbound payment and payout solution, eventually allowing members to pay or be paid using Zoom Token, which powers the CoinZoom ecosystem.
In addition, Beyond members will be paid their commissions through the CoinZoom platform and have multiple currency options to receive their commissions. Beyond Members will have the ability to earn a percentage of cash back when spending their commissions in Zoom Token, and earn on trade activities and card swipes of all member transactions. 
We are excited to be the first to rollout CoinZoom as it is a much-needed solution for the industry. We believe in this solution so much so, that we are also working with CoinZoom to onboard additional companies to add value to their members and the entire CoinZoom ecosystem. 
Todd Crosland, Founder and CEO of CoinZoom, said
"CoinZoom's unique business model and diverse product offering, which allows customers to buy, sell, and spend converted cryptocurrency balances globally, has distinguished itself as a potential industry leader."
Crosland continued, "The Beyond executive team's experience combined with our relationships spanning many years provides confidence in the significant potential of our alliance."
Beyond is positioned to bring innovation to the industry through its multi-category approach and the carefully architected ecosystem with CoinZoom. The next 90 days will represent an unprecedented opportunity of timing and positioning with the launch of the first-of-its-kind Infinity Line™, the cornerstone of Beyond's multi-category strategy. 
About CoinZoom
CoinZoom is the next generation digital asset exchange that uses the team's vast experience in providing superb trade quality, customer-focused tools and technology. CoinZoom offers services in buying, selling, and spending bitcoin, ripple, ethereum, and other top digital currencies.
CoinZoom is the first U.S. digital currency exchange to issue its own Visa card. The CoinZoom Visa card allows users to spend both fiat and crypto at over 53 million locations globally. CoinZoom is a U.S. registered Money Services Business with FinCEN in all 50 states and territories.
CoinZoom is also a U.S. registered Money Transmitter, available for trading in over 45 states, and also has subsidiaries in Australia and Ireland. CoinZoom Australia PTY LTD is registered as a Digital Currency Exchange with AUSTRAC and CoinZoom Europe Limited, is registered in Ireland. For more information please visit www.coinzoom.com